Curse of War Production Journal
"I was looking for the perfect monologue and since I always felt like there were many similarities between my life and the military, I was drawn to monologues involving  service members.   I stumbled upon a monologue with a Marine talking about his experience and it was so compelling that I cried.  I knew then that that was the perfect piece for me.  Initially I only wanted to learn the monologue for auditions but after Phillipa read it, she convinced me that it had short film potential and urged me to start the process of creating the short film Curse of War.  Initially I tried on my own to pull some key strands together to shoot Curse of War and I soon realized the difficulties of securing talent without having a name and experience in production.  Everyone I hired backed out.  Phillipa stepped in and saved the day. Nothing gets in the way of this producer getting the job done.  Her no retreat, no surrender, we will overcome approach is contagious.  She was able to secure some of the industry's best and foster a friendly, family-like atmosphere on set.  From conception to completion her integral role is nothing short of amazing! Phillipa is my Shero! I am always inspired and eternally grateful!"  - Ronald Graham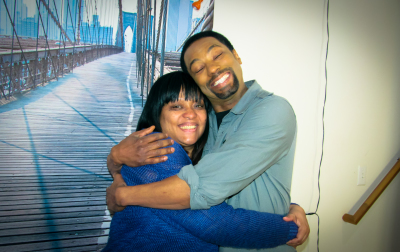 "Over dinner at Lala's restaurant during a business trip to Los Angeles, Ronnie and Phillipa asked me if I would be interested in directing their project. I was already onboard to do some editing of what was only to be a monologue, but, with my now creative involvement, I wanted to take it to another level. For the next few months myself and Ronnie collaborated on a storyline and I eventually wrote the script entitled "Curse of War".  
A few months later, Phillipa & Ronnie started pre-production and a few weeks after, I was in New York and production on "Curse of War" was in full effect." - Abdul Malik Abbott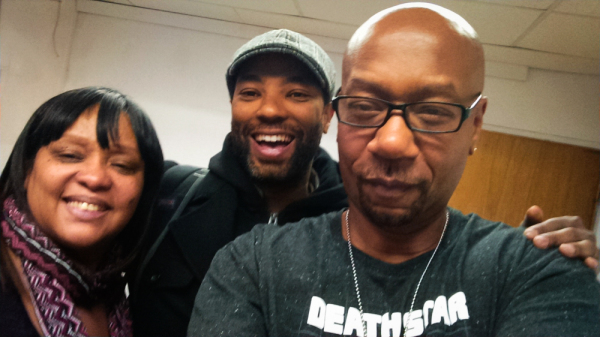 "
We were so fortunate to have Abdul on the team.  Curse of War is a testament to the power of a rich history, great working relationship and mutual respect between these two consummate industry professionals.  Such a beautiful collaboration."
"Abdul's interpretation of my story struck a chord with me the minute I started reading. It took on new meaning and depth and I always felt like he understood James Powell like none other.  Being so intimate with Curse of War and the creative process afforded me more liberties than a typical controlled atmosphere where an actor's creativity is often stifled due to budget and creative constraints. I truly felt like an artist with a blank canvas uninhibited and free to color this character without boundaries.  Abdul skillfully and seamlessly directed and explored the chaotic world and the tormented psyche of James Powell.  We all felt like we had a strong sense of obligation to present an important narrative for our time and it was always evident in Abdul's level of dedication to Curse of War." - Ronald Graham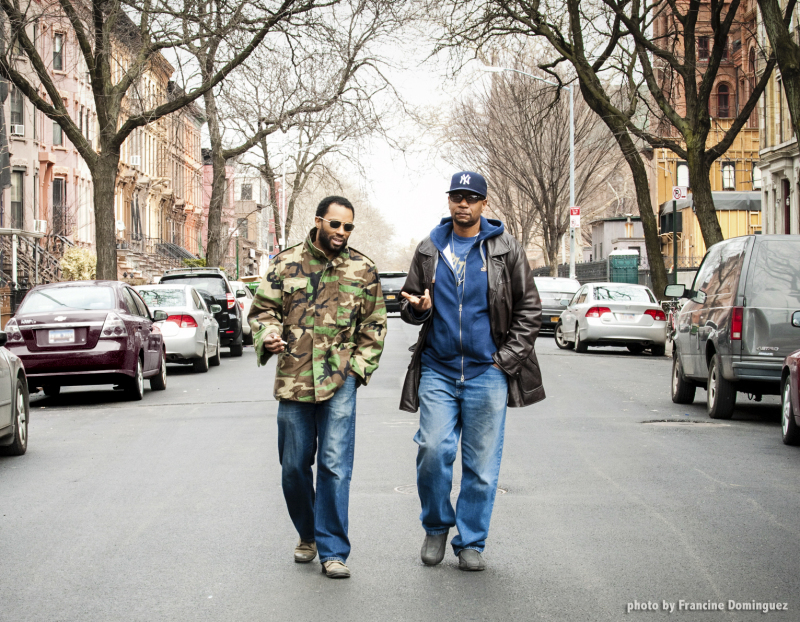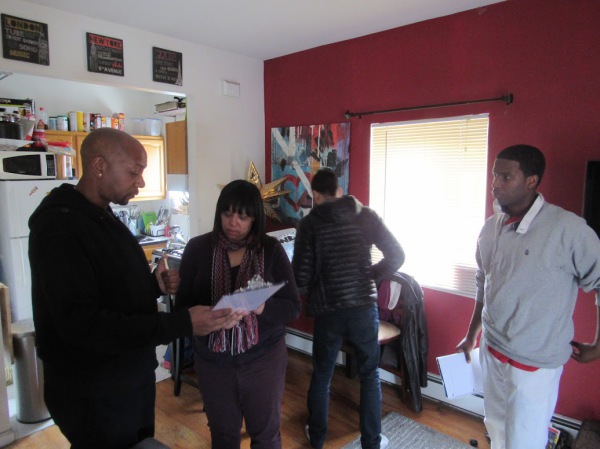 "I was fortunate enough to work with longtime friend, Phillipa Davis on this project. We worked together in the past and are in synergy when it comes to the appreciation of most movies & TV shows. Being that this was a labor of love, she had to wear many hats.  Not only is she the Producer and Executive Producer, she is also a Creative Producer and was there when the story was just a twinke in Ronnie's eye. She had everything laid out so that we were able to scout, cast, prep and shoot within only a few days of my arrival to NYC AND have time to be sociable while I was in the Big Apple." - Abdul Malik Abbott
Scouting and scheduling with Producer, Phillipa Davis as Production Manager, Stephen Mark looks on. 
"It was such a pleasure and relief to grow my beard and skip grooming for a few months.  This is certainly the way my face would prefer to be." - 
Ronald Graham
"I really wanted to show the different layers of the character James Powell and I found that facial hair is a perfectly subtle way to show how a character feels about his appearence, so I requested that Ronnie grow a beard to help represent the hard living the character was going through. This also meant we had to be extremely meticulous with the shooting schedule because once he shaves, there's no going back to that look." -   Abdul Malik Abbott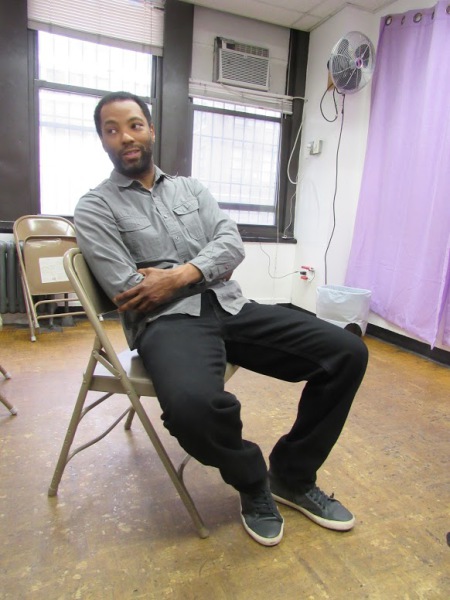 "I did some serious soul searching while working towards fully developing and fleshing out the character James Powell.  I don't think I was ever questioned this much in my life and forced to answer so many unknowns.  I like to say that Sally worked for the CBI.  Character Bureau of Investigation.  It was a profound experience that I will cherish forever.  I improved as a performer and ultimately a human being. "
- Ronald Graham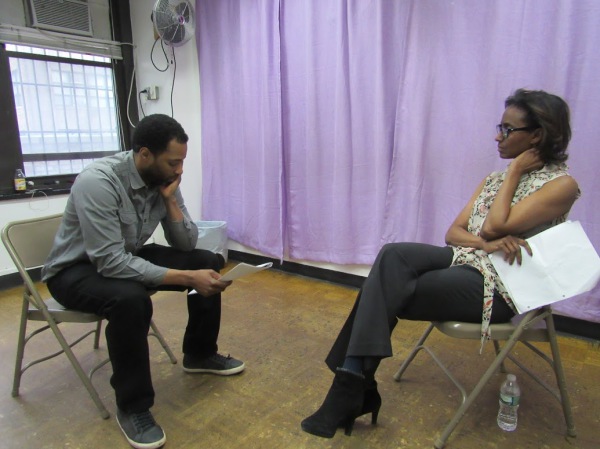 One of the script's major scenes is with James Powell and his Psychiatrist Dr. Dent, which is portrayed by seasoned actress Sally Stewart, who is also Ronnie's acting coach. They spent several sessions rehearsing and building the character weeks before production began.
Actors Ronald Graham and Sally Stewart during the final rehearsals for "Curse of War".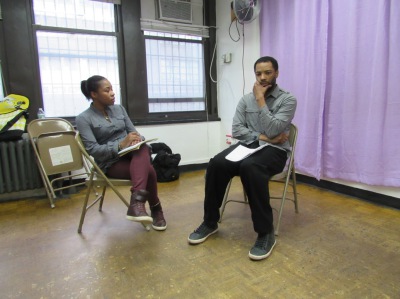 "Actress Famecia Ward was cast as "Sherri Powell", wife to "James Powell". I felt the character needed to be a strong Black woman who was not intimidated by James and his issues, yet, she still needed to be soft, caring and a mother to two kids who still depended on their parents. Famecia had the right balance and her real-life military background helped seal the deal." - Abdul Malik Abbott
"During character preparation, I was deciding which Ex to draw inspiration from and endow on Famecia. All about coming from a Truthful place right?" -
Ronald Graham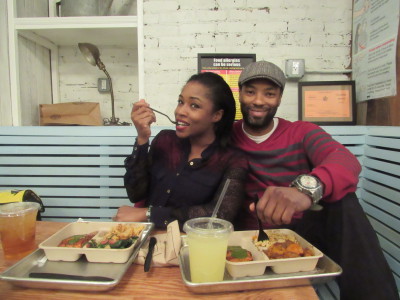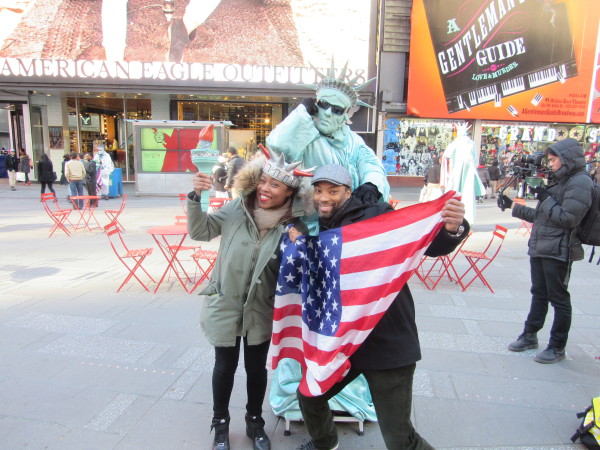 "
After Famecia was chosen for the role, I figured we'd do a few simple things couples would do.  So we toured Times Square and ate healthy food. That's what great couples do these days right?" - Ronald Graham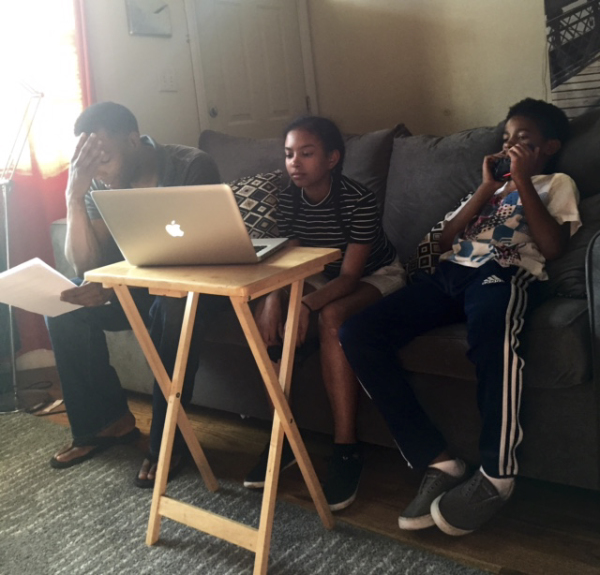 "The roles of "Ali" and "David" went to young actors Kaya Slawecka and Omar Dellimore. Originally the roles were meant for two boys, one younger brother and one older brother, (based on Ronnie's real life sons) but Kaya's audition was so good I decided to change it to a brother and sister duo. To accomodate the casting change, I rewrote the script , splitting up the lines of dialog between the two, where originally most of the dialog was for the older brother. I still kept the name "Ali" for the sister character, (named after my cousin, Drew Ali)." -  Abdul Malik Abbott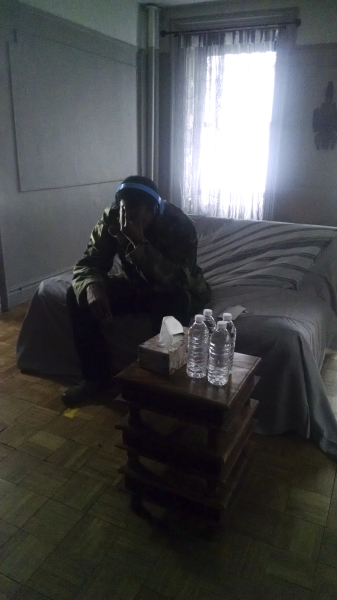 "
Months before filming, I lived with James Powell.  Occasionally and oddly, his depressed state was more pronounced when I traveled on the train.  At times I would cry spontaneously and entertain morbid thoughts while underground.  I was excited to finally film and release my spirit of this troubled and hurt character.  Needless to say, Curse of War was actually great for my soul. As far as the headphones go, music has always been and continues to be my gateway to emotions.  A few artists from my distressed playlist include Sam Cooke, Yolanda Adams, The Band Perry, Bruno Mars, Adele and Jeff Buckley." - Ronald Graham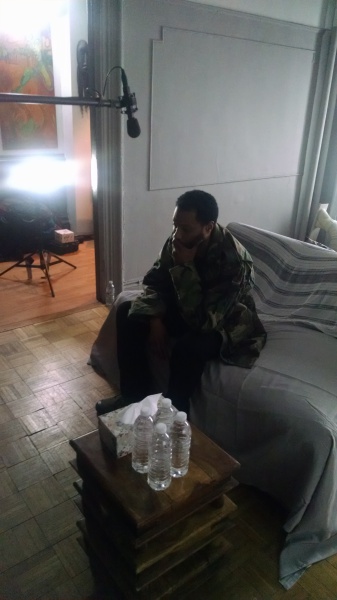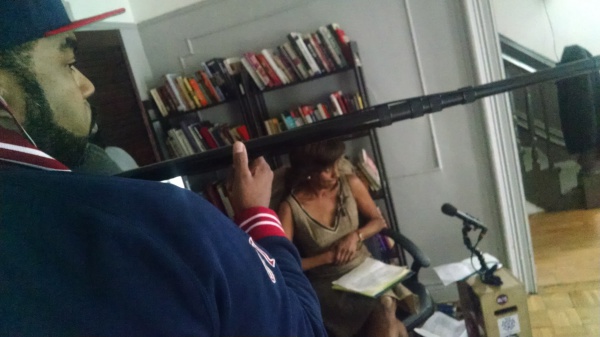 Boom Operator Niru Cox working the scene as "Dr. Dent" reads her lines off camera.
Ronald Graham as "James Powell"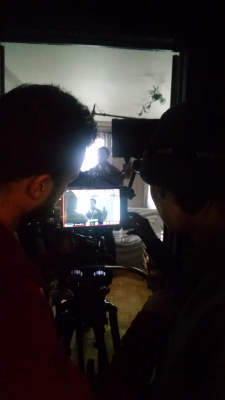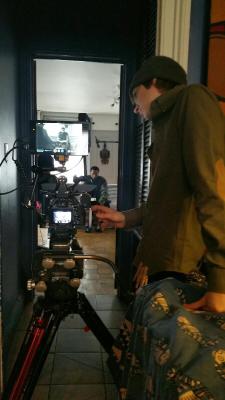 "We filmed on location in Bed-Stuy Brooklyn, taking over a basement apartment for Dr. Dent's home office in which the character James Powell pays a visit to. The few scenes shot there were heavily emotional and Ronnie used a process that involved playing back digital recordings of his family and a variety selection of music to help bring him to the appropriate emotional state.  
It was a challenging location as it was right below the flight path of JFK airport, so a plane was guaranteed to fly overhead every 5 minutes." - 
Abdul Malik Abbott
DP Aharon Rothschild lining up the shot as AC George Cayea pulls focus.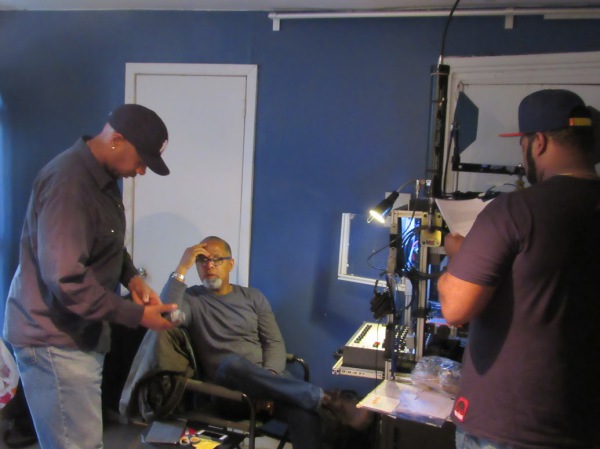 "It was an honor to have Charles Hunt and Niru Cox on the team in the sound dept. I've known Charles almost my entire career, working with him in the sound dept for many years and I consider him a dear friend.  Charles works on MAJOR movie & TV projects and brought his A-game to our project." - Abdul Malik Abbott
Director, Abdul with Sound Mixer Charles Hunt & Boom Op' Niru.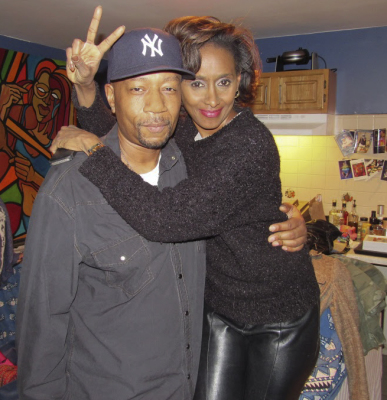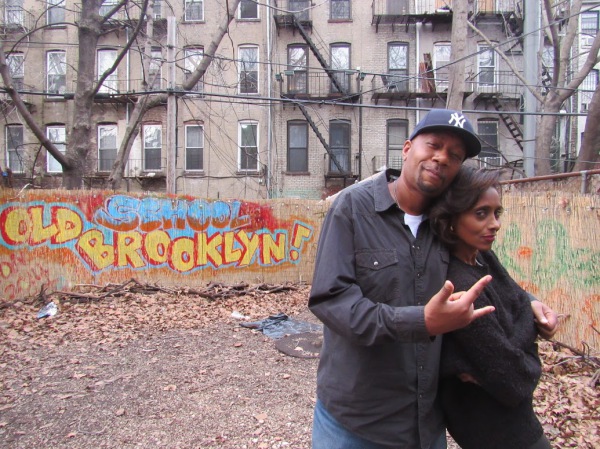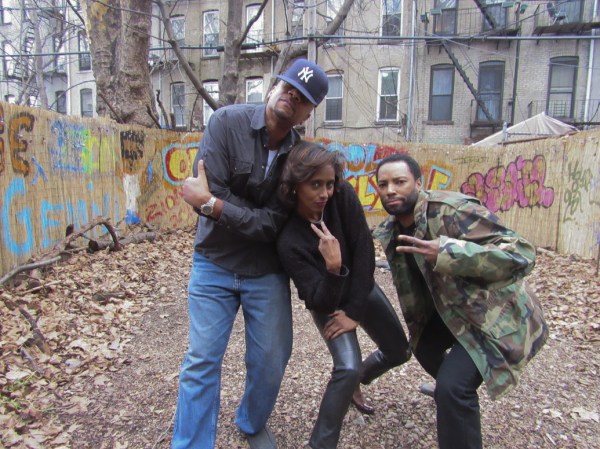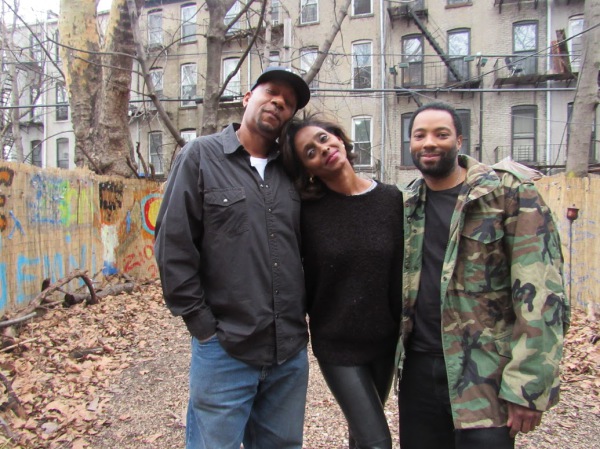 "At the wrap of an intensely emotional shooting day we had to say goodbye to the talented actress Sally Stewart who played the overworked psychiatrist Dr. Dent." 

- Abdul Malik Abbott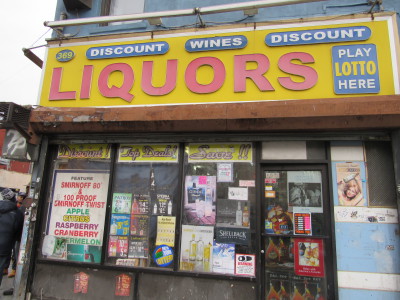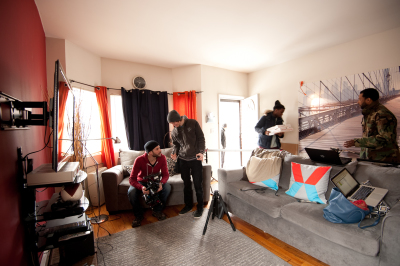 "
We were blessed to use my apartment and the surrounding neighborhood for locations.  Even the loyal liquor store patrons wanted a piece of the action.  The interesting part about shooting on location in NY was we were at the mercy of the noise-makers.  They dictated when the scene started, not the other way around."  - Ronald Graham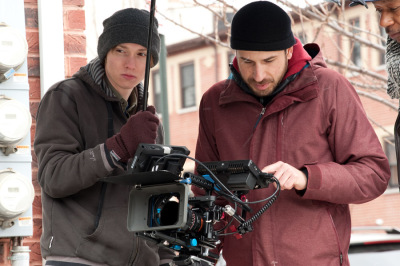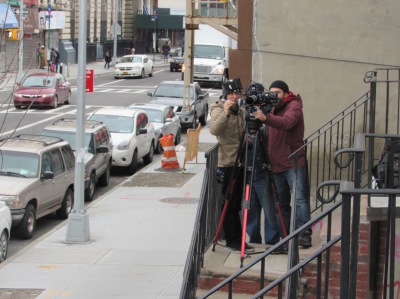 "I worked with Ari a few times prior on the production side of things and have been a big fan of his cinematography. This was his first time seeing me in front the camera.  It was really great working with Ari and watching his brilliant process of finding the perfect light for scenes.  Like some of my other actor friends he has worked with before, I now get to be a part of that privileged group of actors shot by this phenomenal DP." - Ronald Graham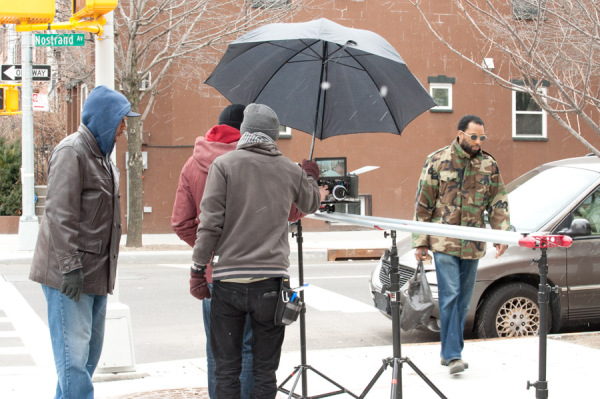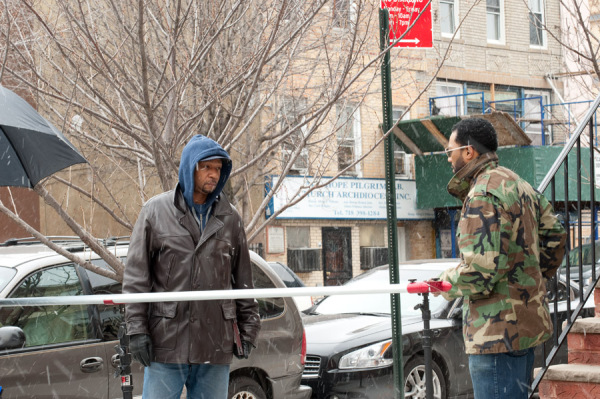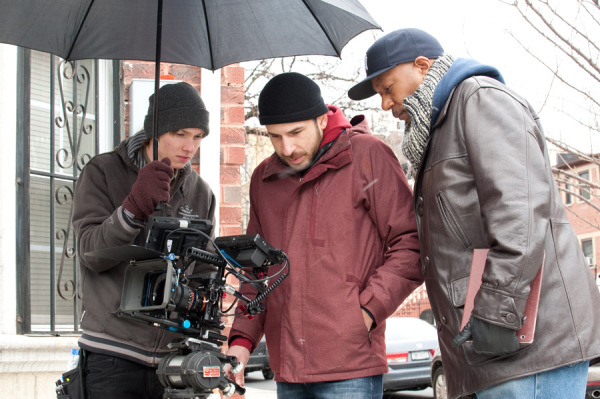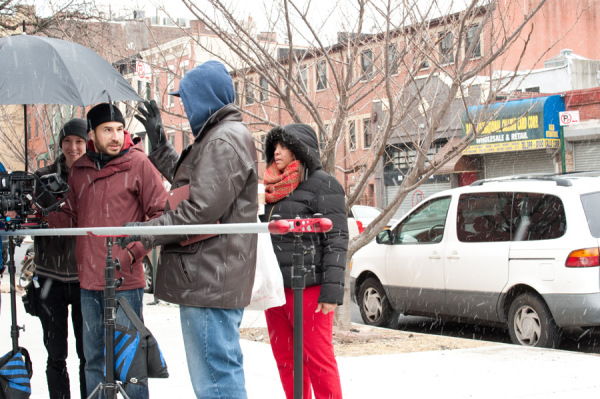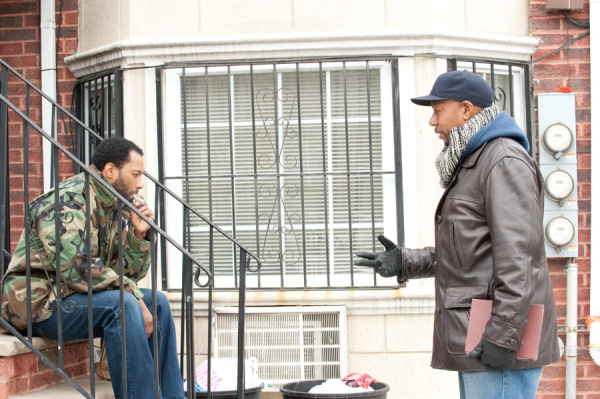 "This Bed-Stuy neighborhood, like so many hoods in NY was noisy and busy on the main avenue, but held a certain charm. The neighborhood alcoholics were lined up at 10AM in front of the liquor store to get their daily libations, some cared less that we were filming on "their" block, while others let it be known that this was "their" neighborhood. I treated everyone with a firm level of respect, but we were there to get a job done, so the chit chat was minimal." - Abdul Malik Abbott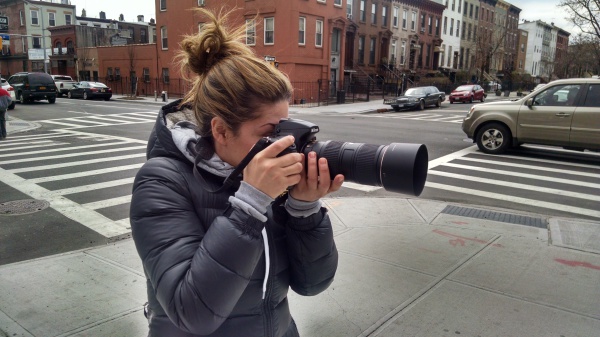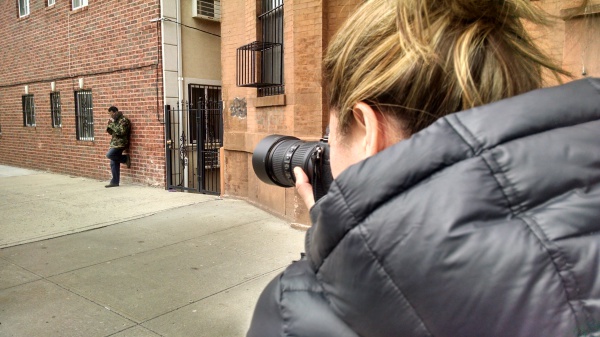 STILLS - "I was honored to have my long-time friend, photographer Francine Dominguez come through and shoot some production stills. I met Francine when Phillipa and I were prepping a music video for Bad Boy Records. In between set ups, I was able to direct Francine and Ronnie in a photo shoot to create the poster photo for the movie. I already had an idea what I wanted, so it was an easy collaboration. That's what happens when likeminded pros work in synergy." - Abdul Malik Abbott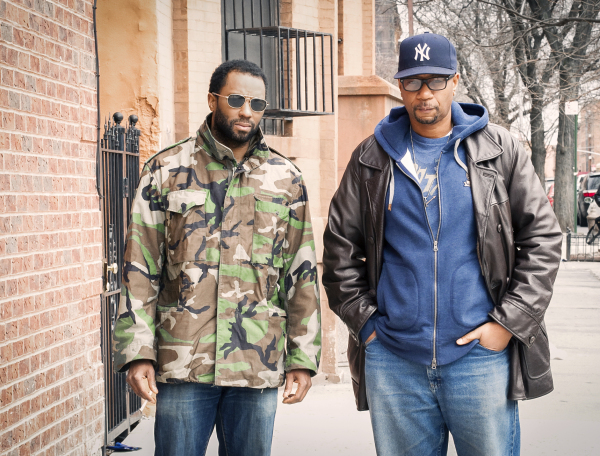 "For the main one-sheet poster for Curse of War, I wanted a photo that captured the mood of the character, a lone man deep in thought walking in the middle of the street on a cold winter's day in a picturesque neighborhood. I wanted to also pay homage to a Marvin Gaye  a 'Troubled man', 'What's Going on' period in time. I decided to use a green tone for the final 2 posters. I felt it gave the viewer an uneasy feeling, yet not as cold as blue and not as warm as the natural color " - Abdul Malik Abbott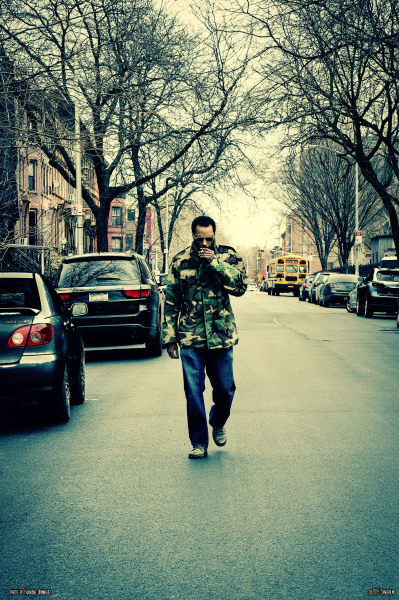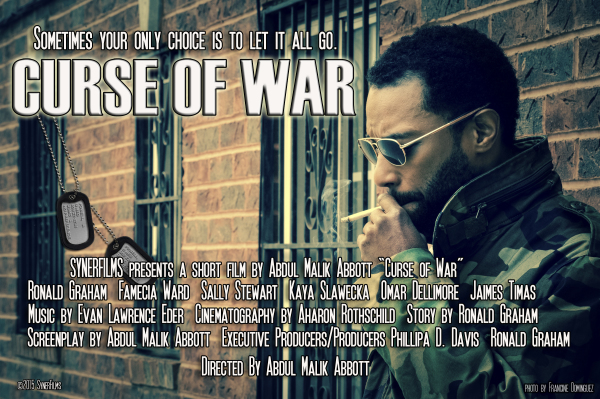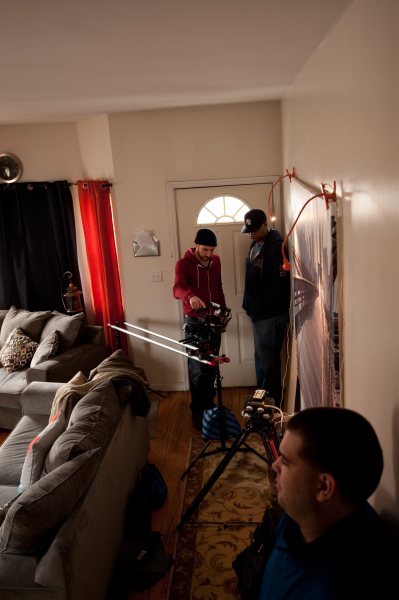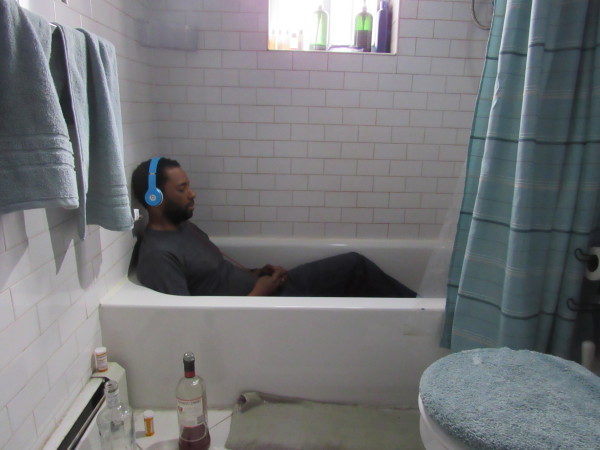 Filming the opening sequences in a pretty tight space.
Ronnie takes a time out to get into character.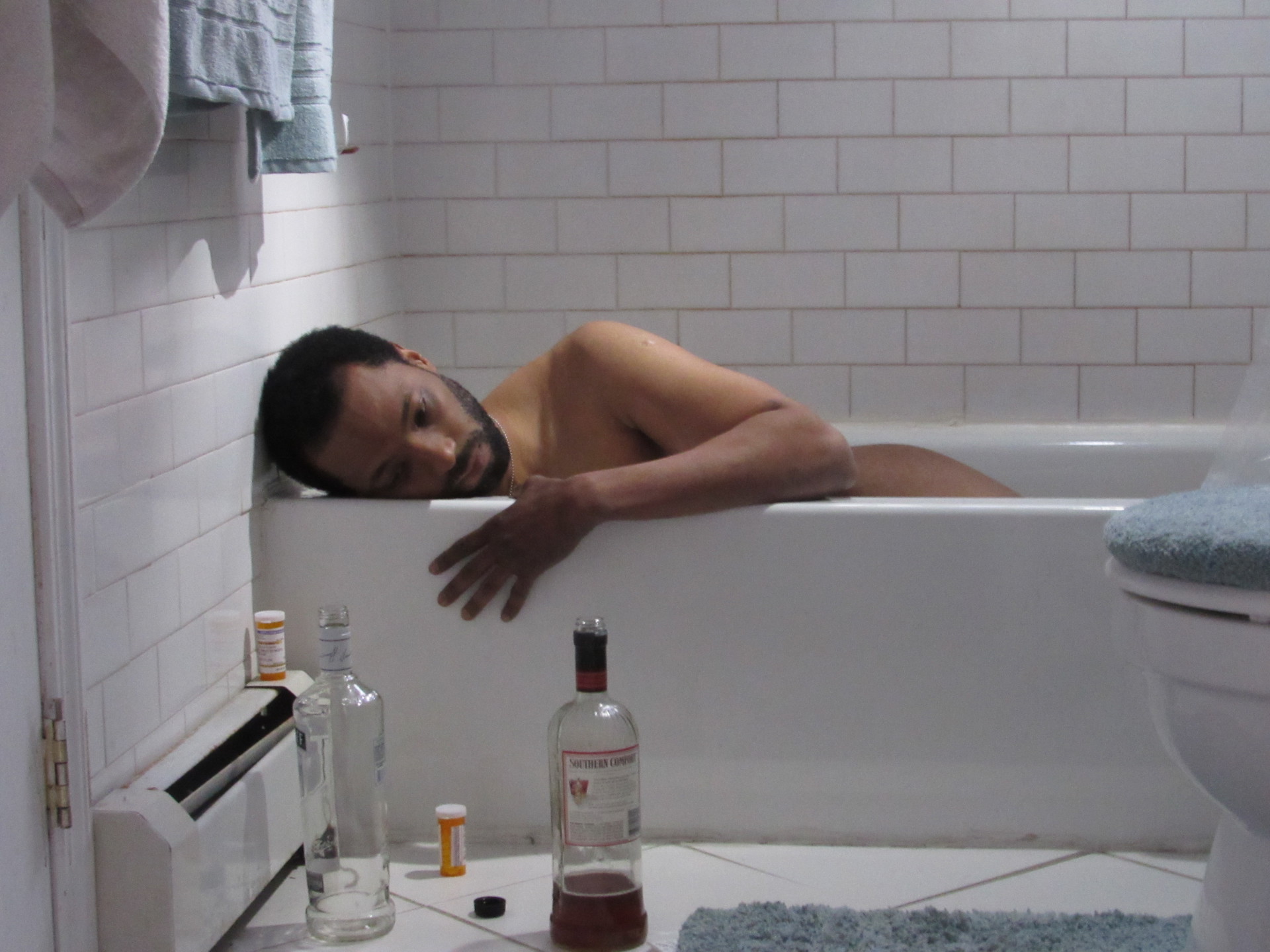 "This scene was pivotal for me as it's a 1st glimpse into the mindset of our main character.  I wanted to really convey a mood that haunts and brings about curiosity.  Allow our audience to be drawn into the details and subtleties of the scene; be lost in the moment.  I stood next to our director, Abdul and starting whispering some creative notes in his ear.  My instincts flowed and it was magical." - Phillipa Davis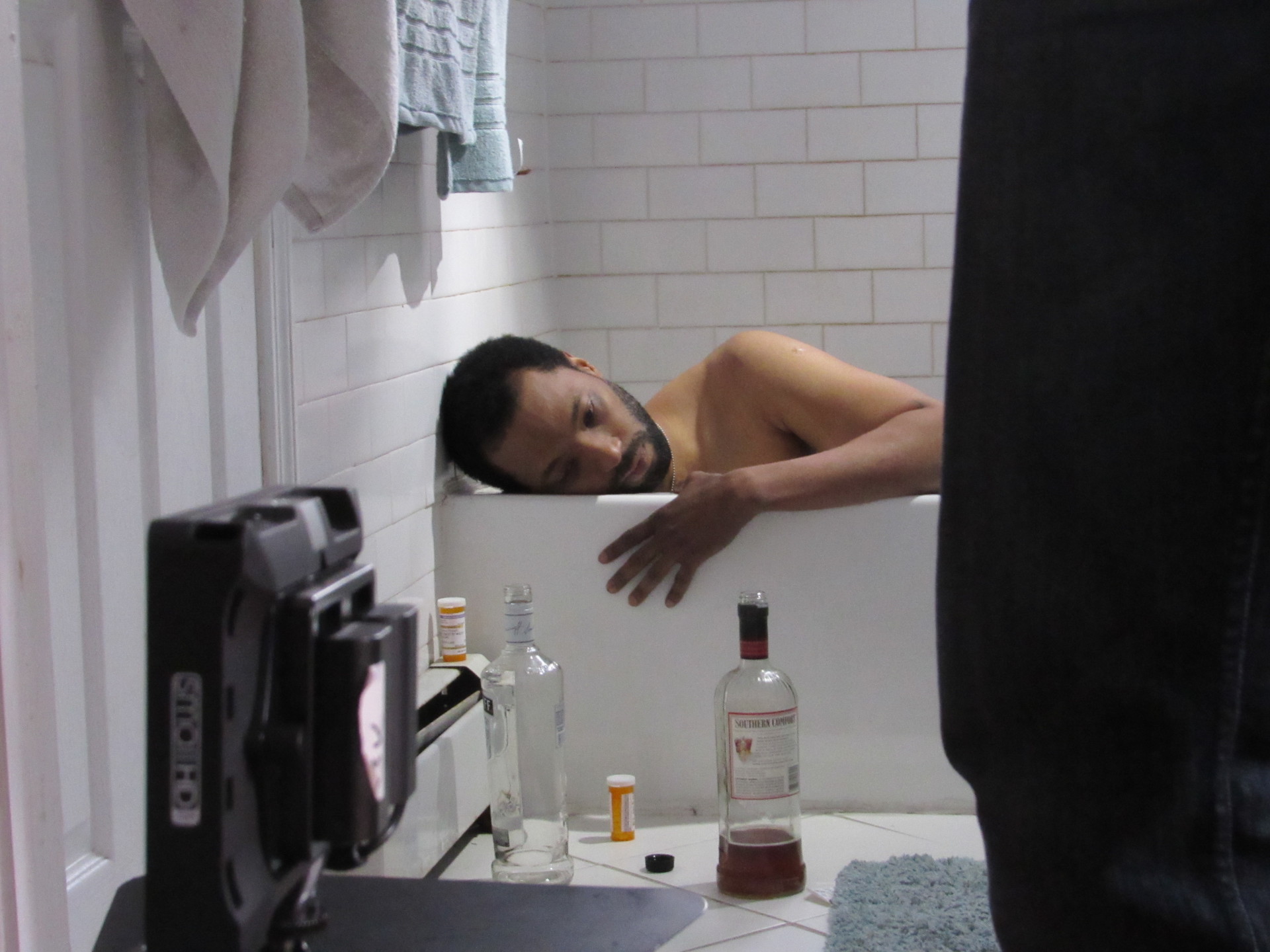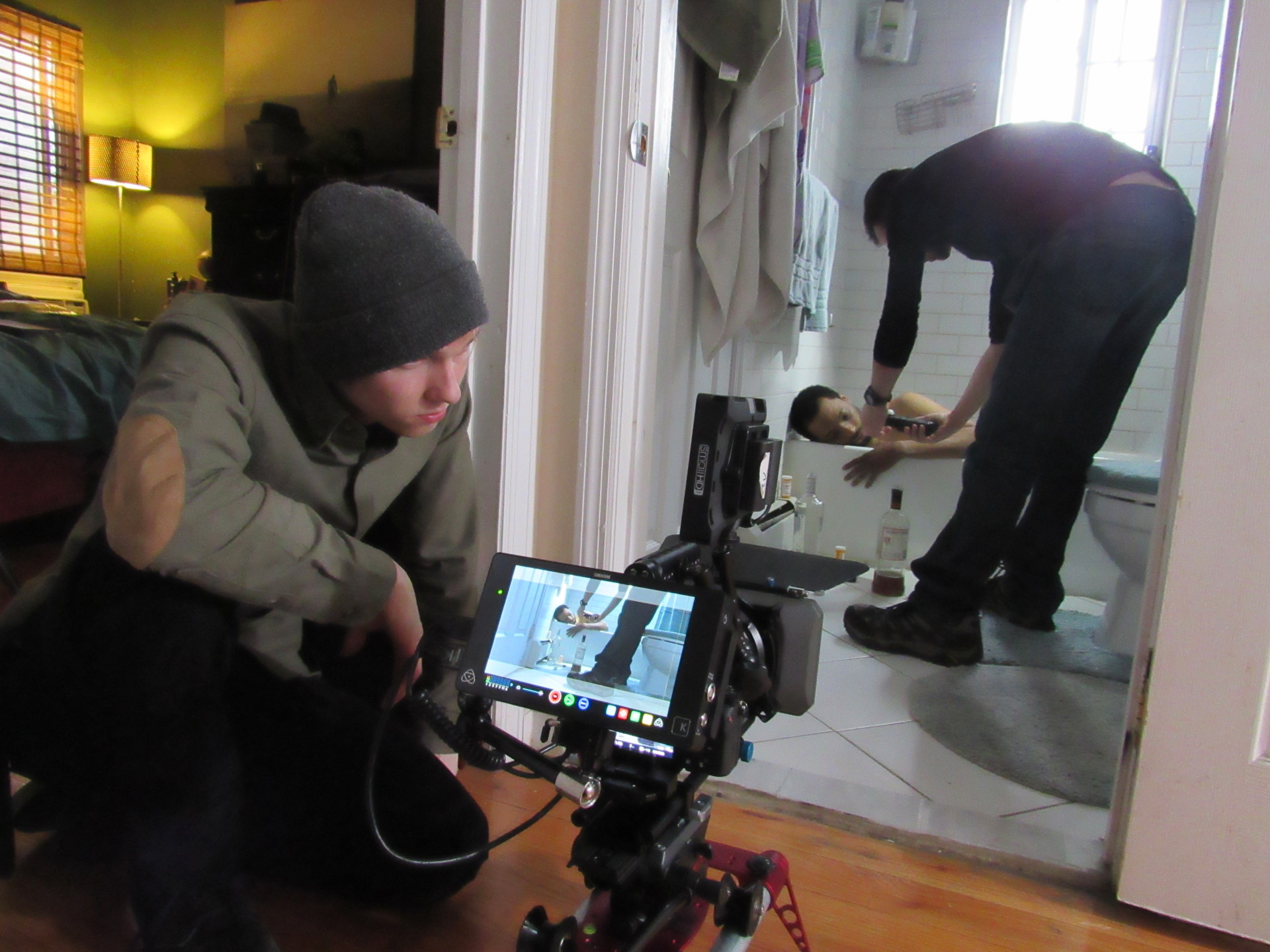 "Being that this is one of the first images we see of the character James Powell, I wanted to make sure we established a disturbing mood that sets the tone for the character who is apparently experiencing turmoil in his life. Working with a nude actor always has its challenges, but Ronnie was ready to work, so we closed the set and got to work." - Abdul Malik Abbott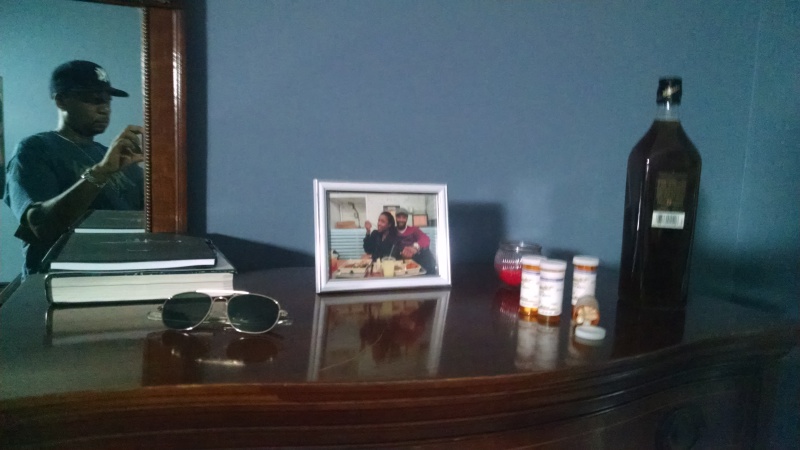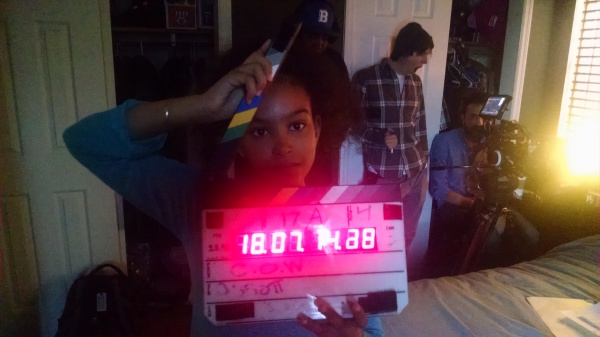 "I knew day 3 was going to be the hardest and longest day out of the shoot. I would lile to be the first to say I discovered two talented acting gems with our two young actors Omar Dellimore and Kaya Slawecka. All of the scenes we shot were emotional and one involved a slight physical confrontation. Famecia Ward played the mother who was holding it down for the family, yet extremely concerned for her husband's mental health and well-being. Ronnie was concerned about scaring the kids during the scene, but they understood and held thier own. - Abdul Malik Abbott
The talented Kaya Slawecka plays "Ali Powell"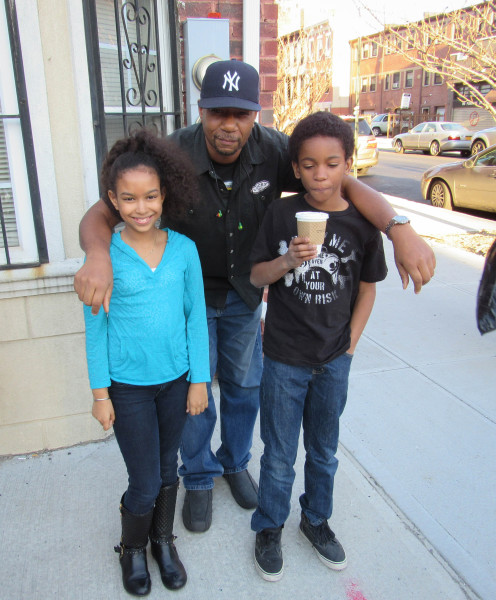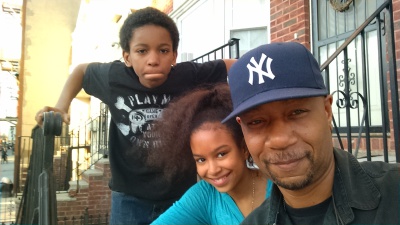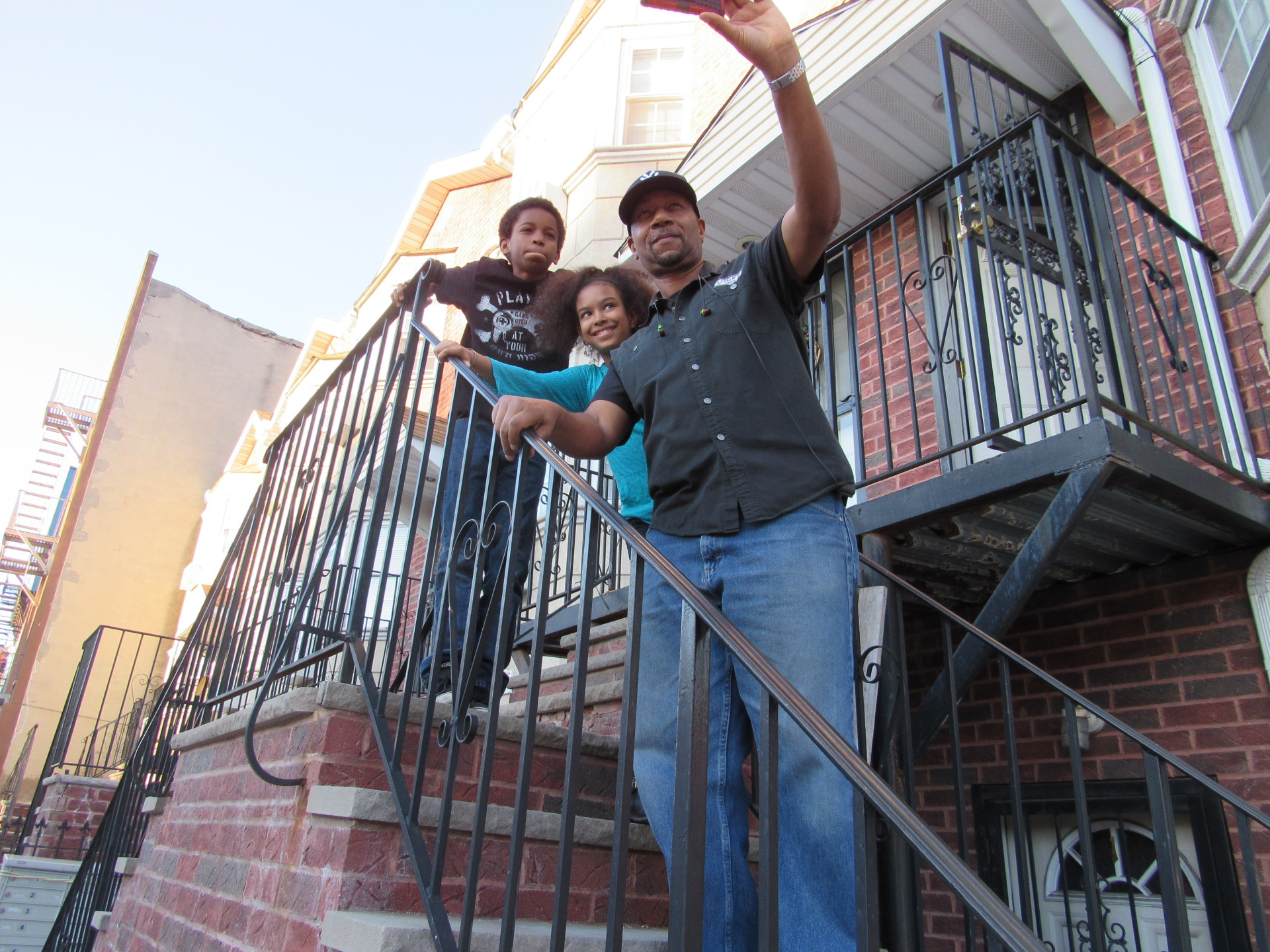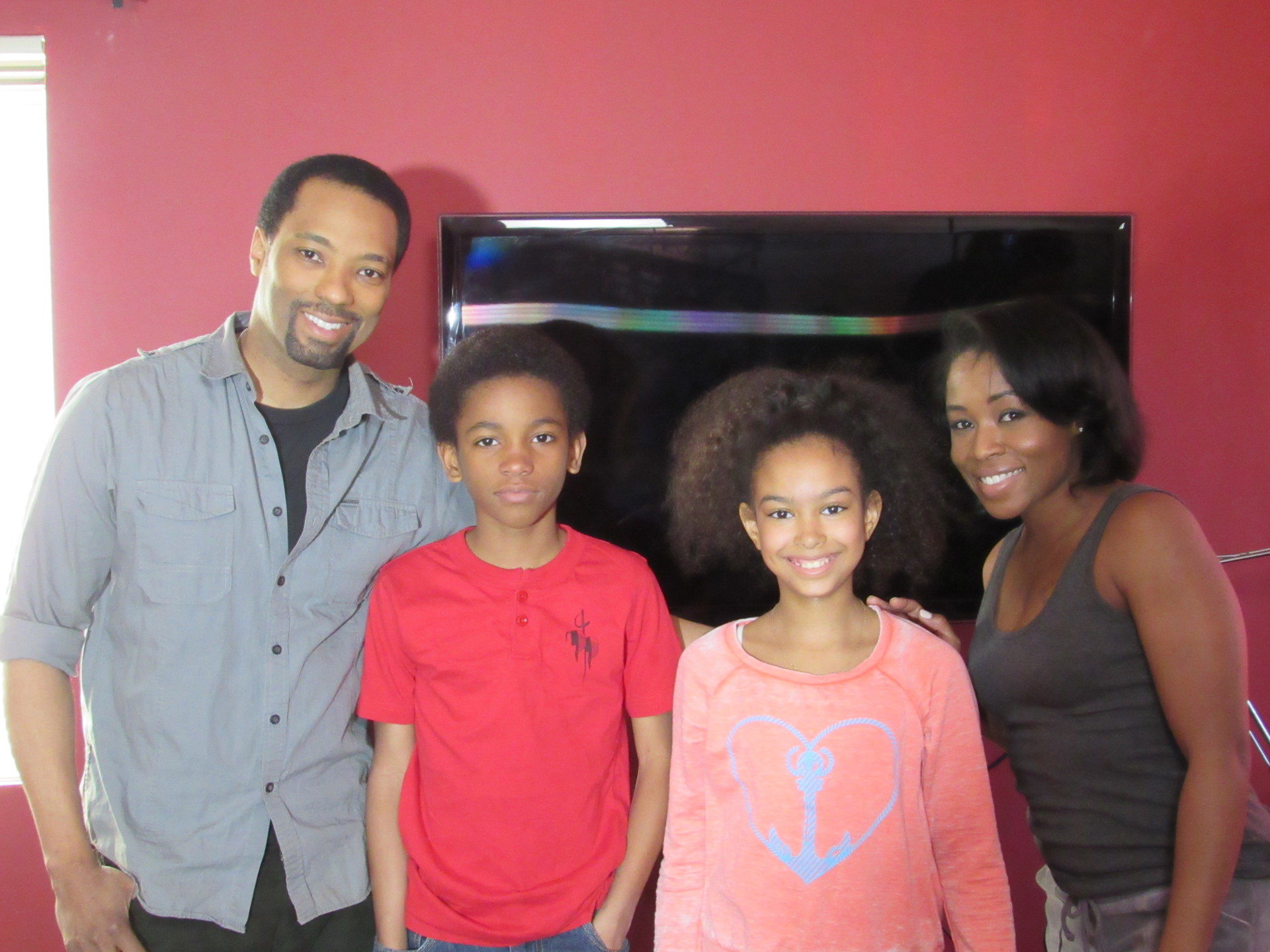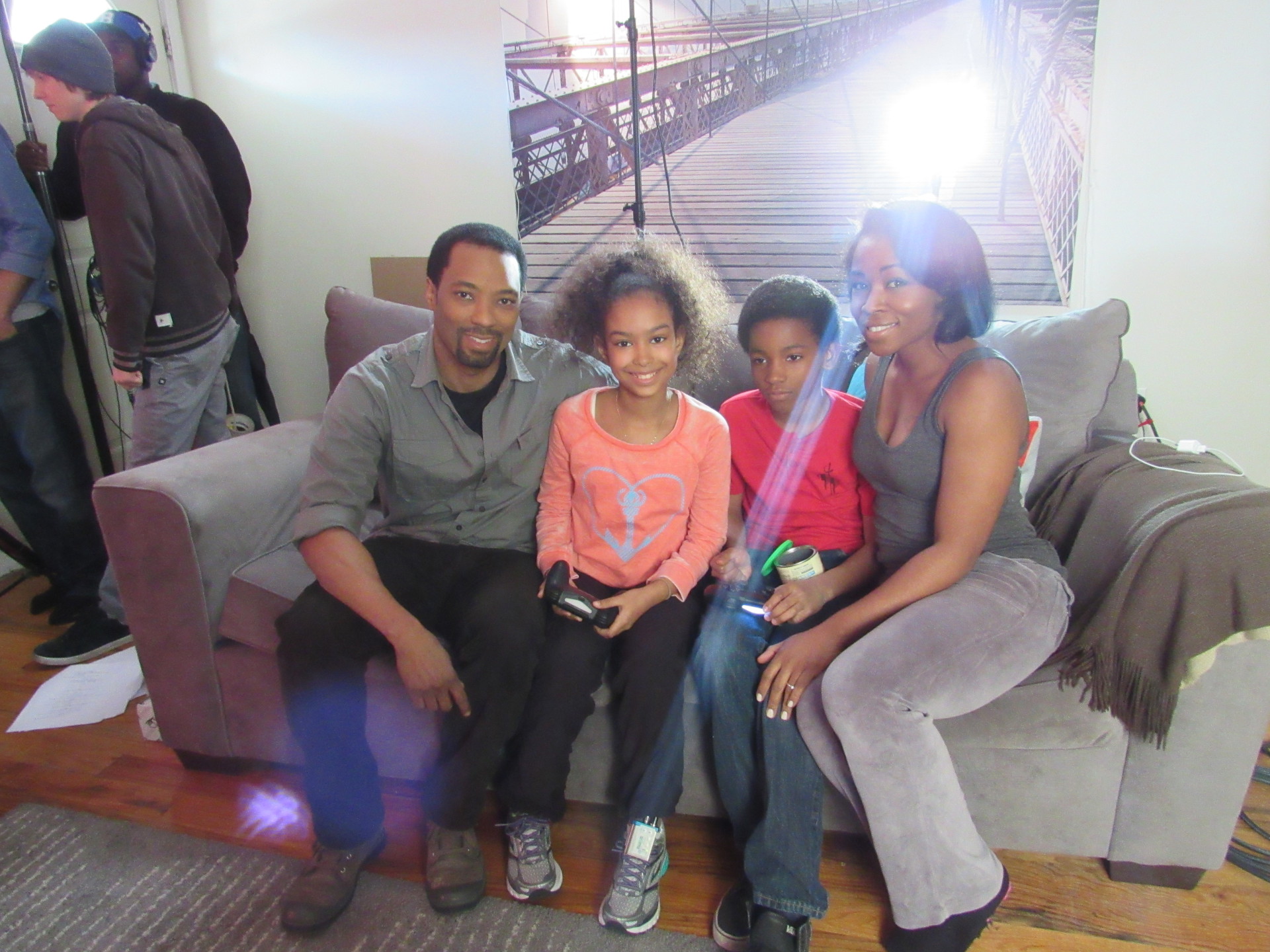 The Powell family James - Ronald Graham, David - Omar Dellimore Ali - Kaya Slawecka, Sherri - Famecia Ward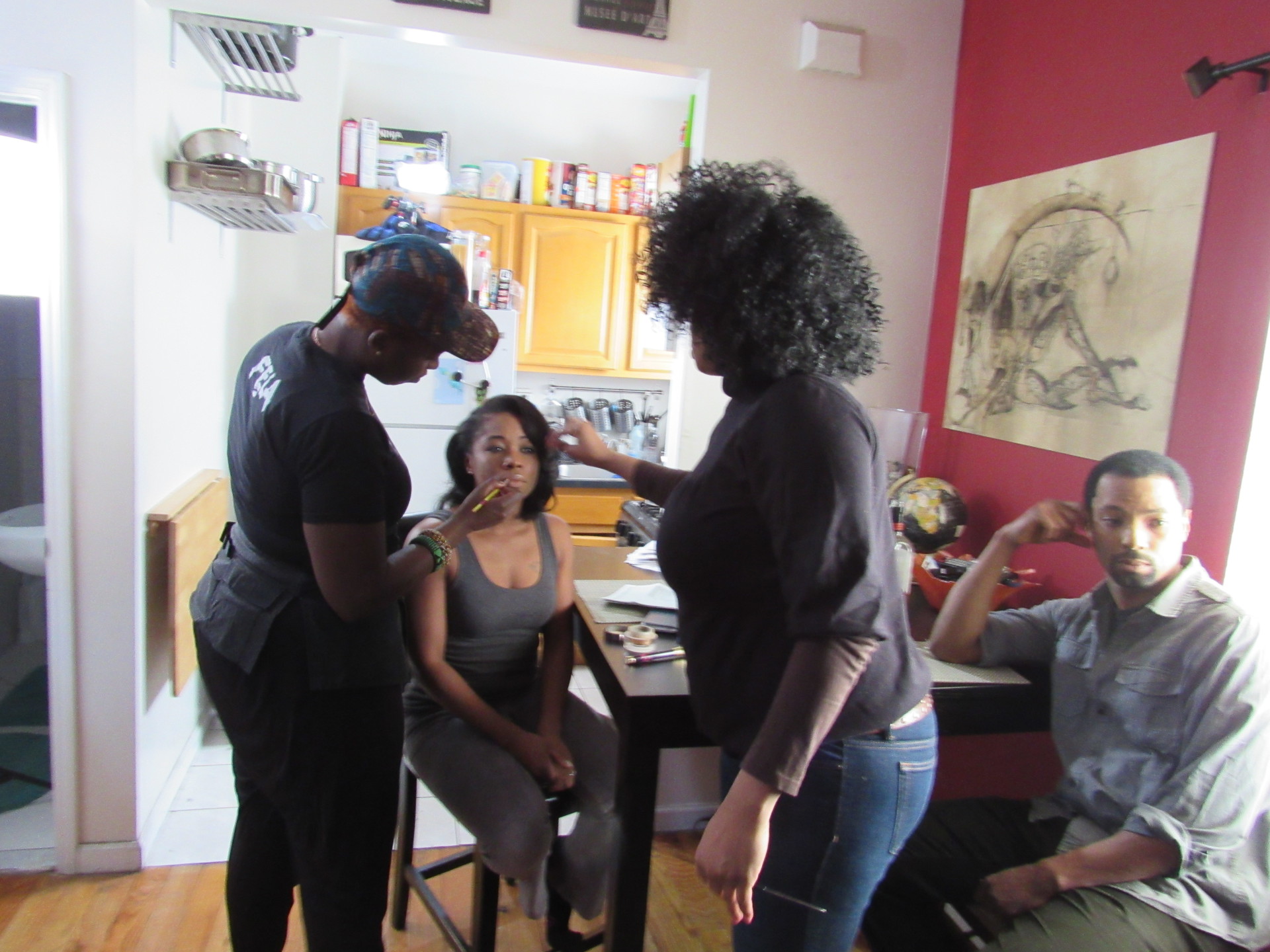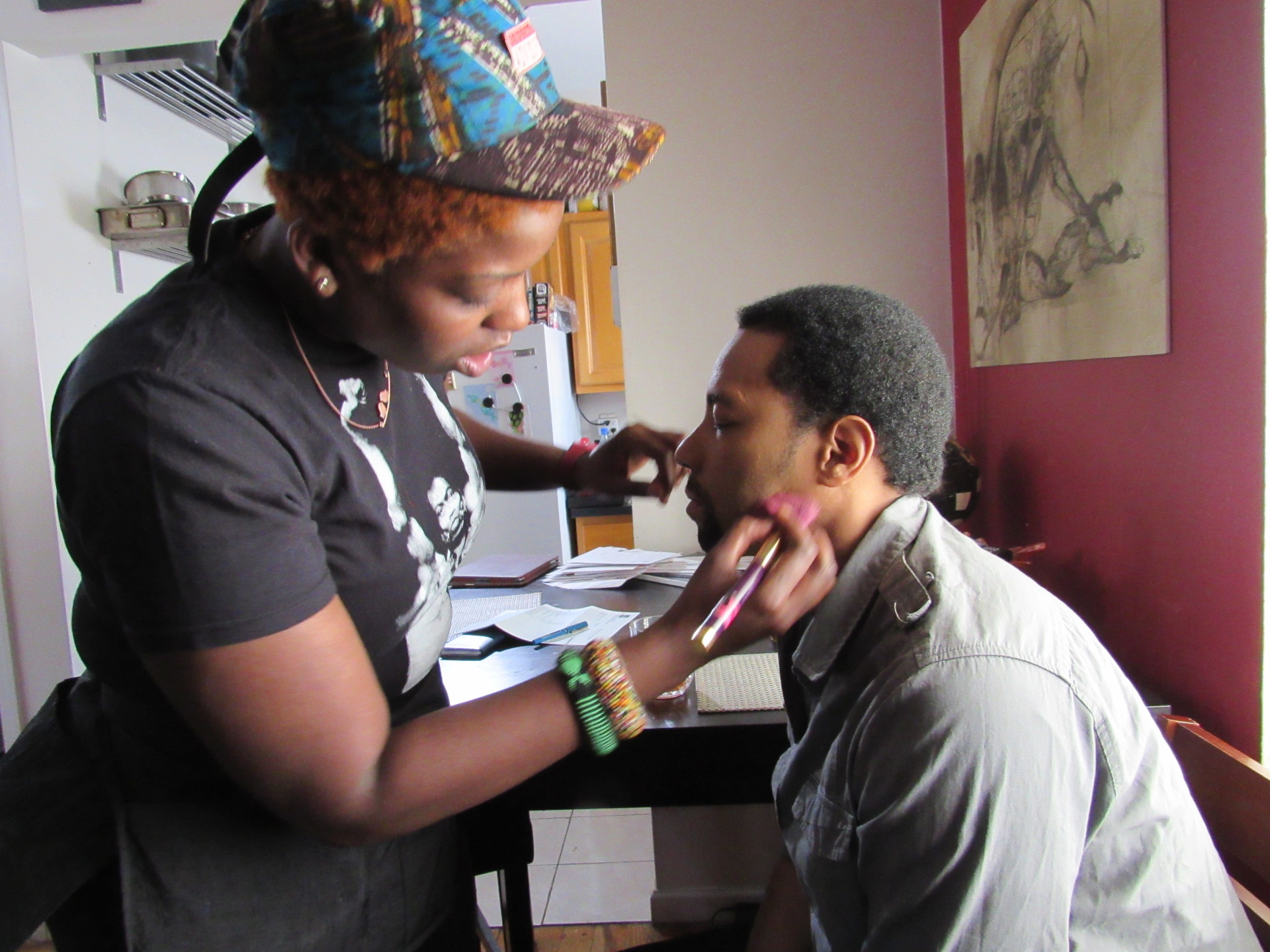 Make-up was very important as we see James in various stages of his life. Amenawon Green was the key make up artist keeping the "looks" in check.
Stacy Gray was the key Hair Stylist and head of the dept. repping her agency.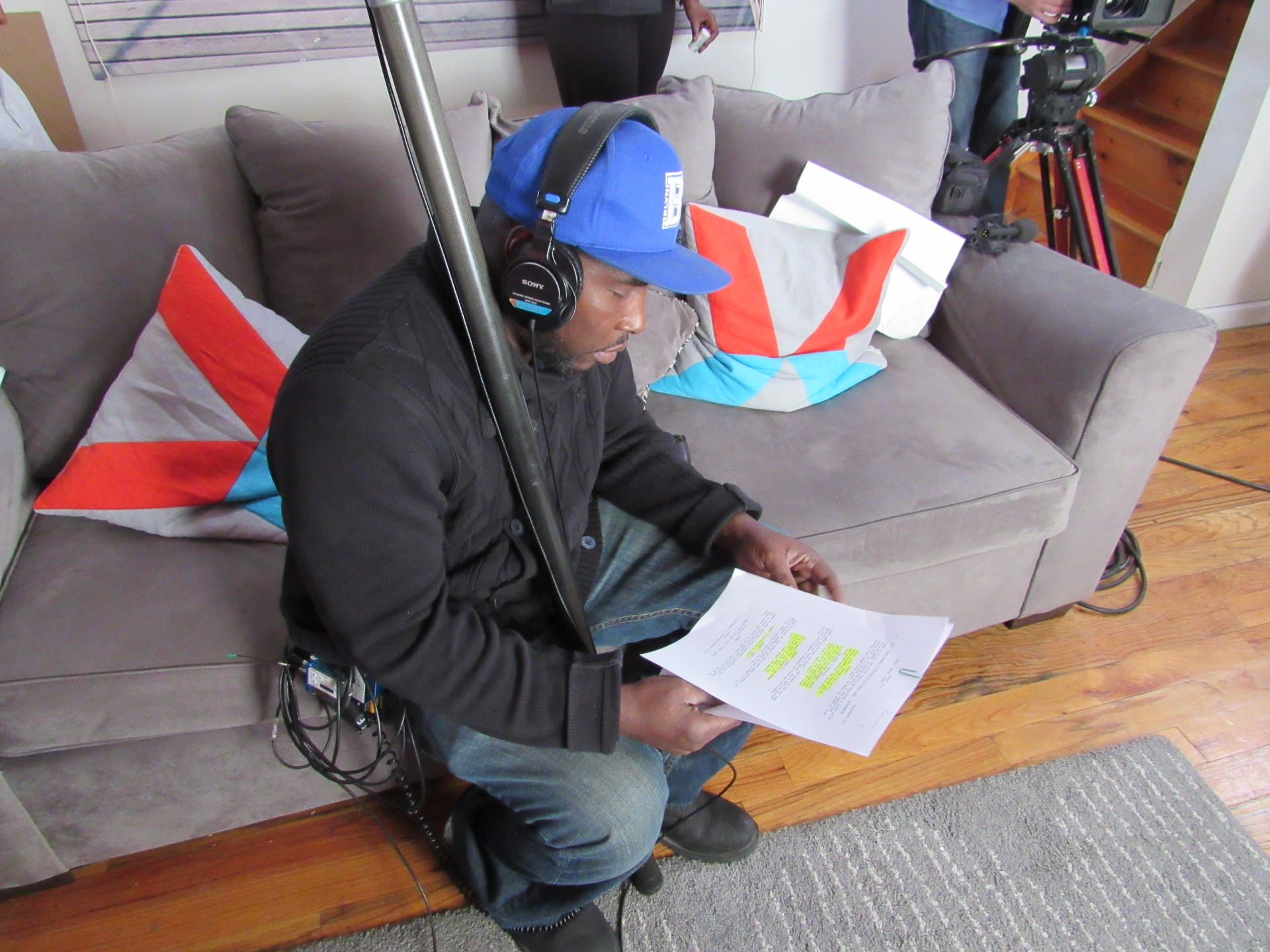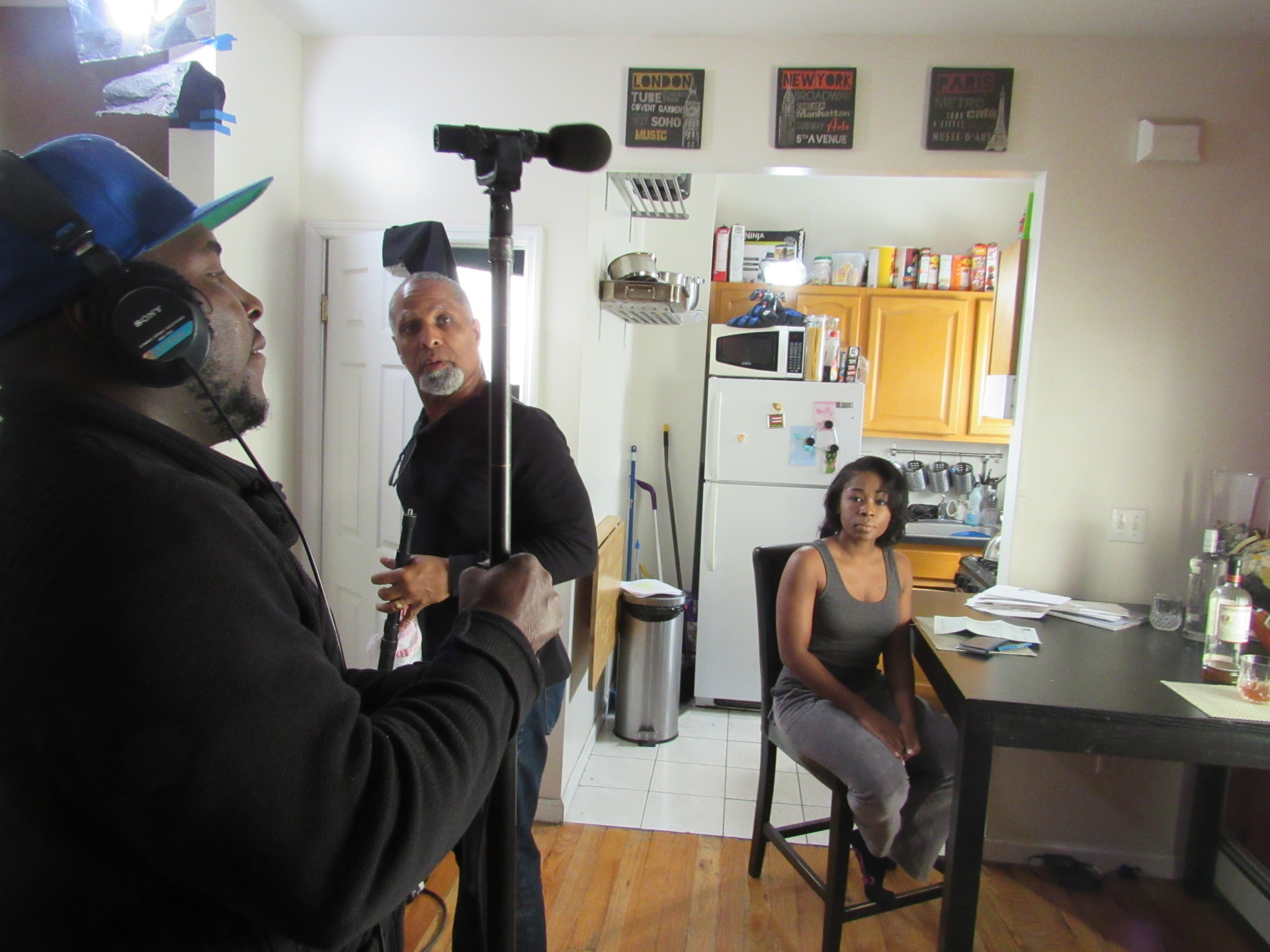 "Sound is extremely important to productions that need sound. I came up in the sound dept and it is a mostly thankless job. If the sound is good, then it goes mostly unnoticed, but if it is bad, everyone notices. Luckily we were blessed to work with pros Charles Hunt the sound mixer and the Boom Operator for the day, Cyrus Baron, who gave us the best sound in a not-so-sound-friendly location" - 
Abdul Malik Abbott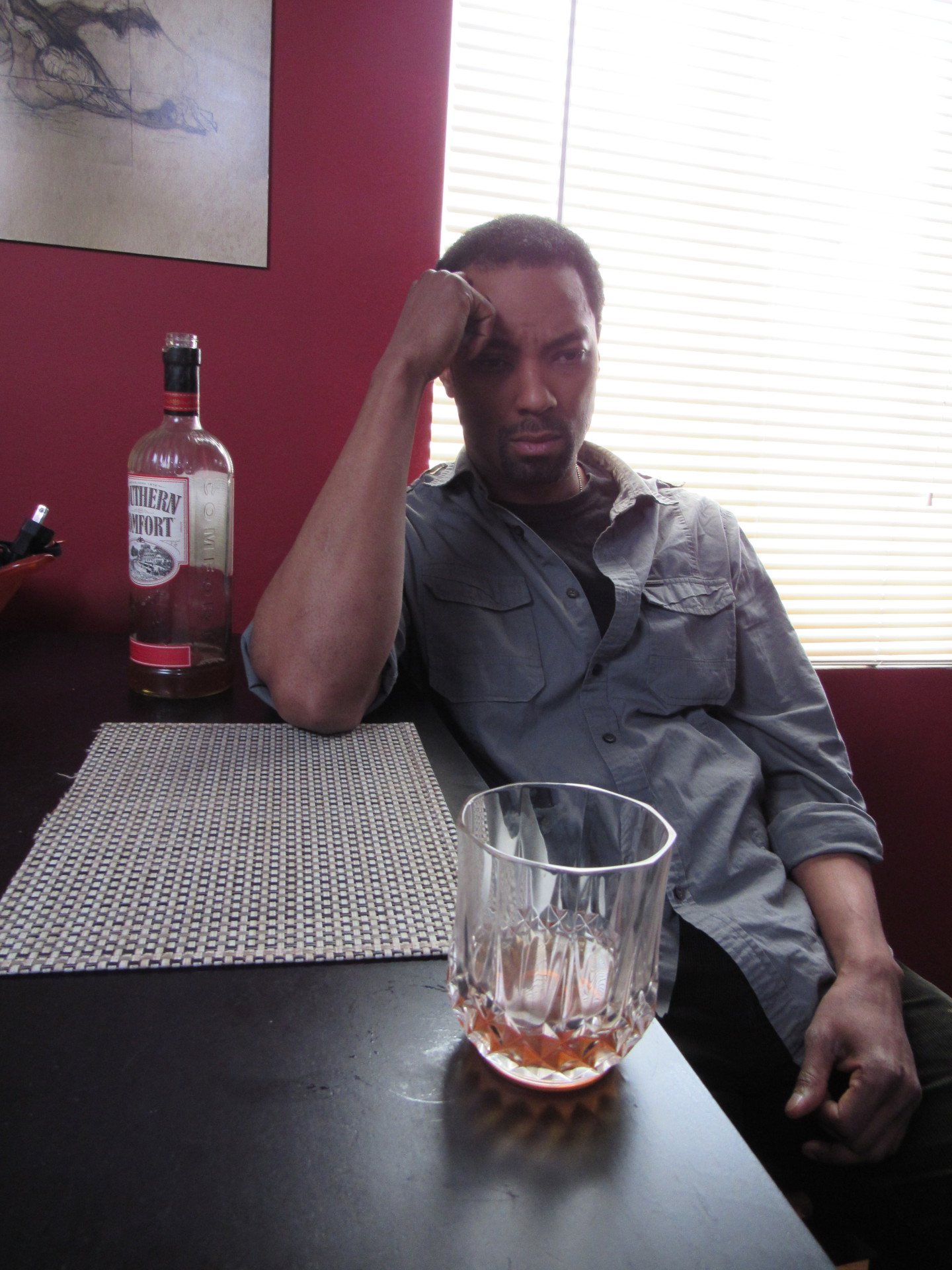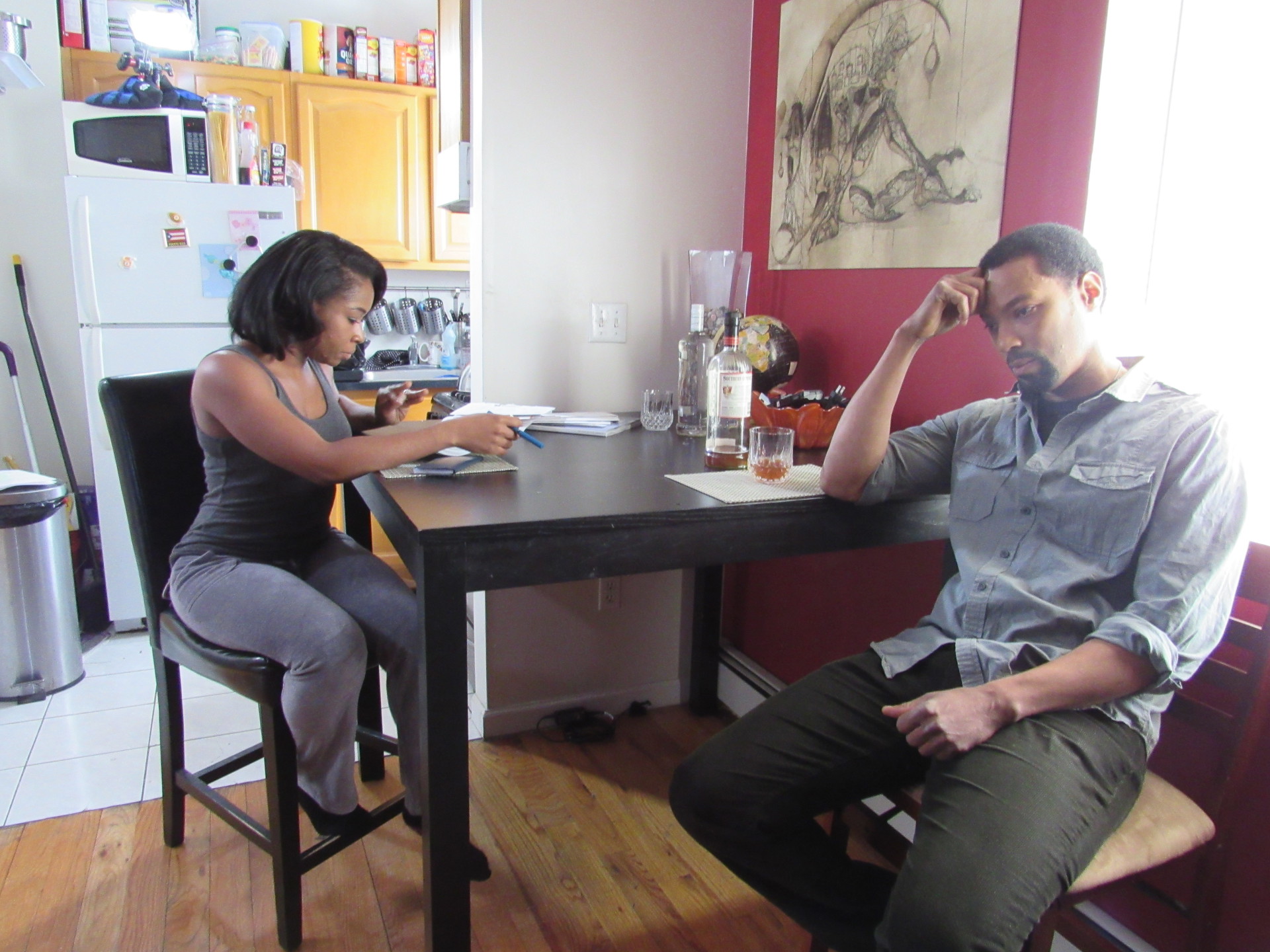 Ronnie as James Powell. "Alone in a crowded room".
Famecia Ward as Sherri Powell, the kind, understanding, yet strong mother and wife, who needs change in thier household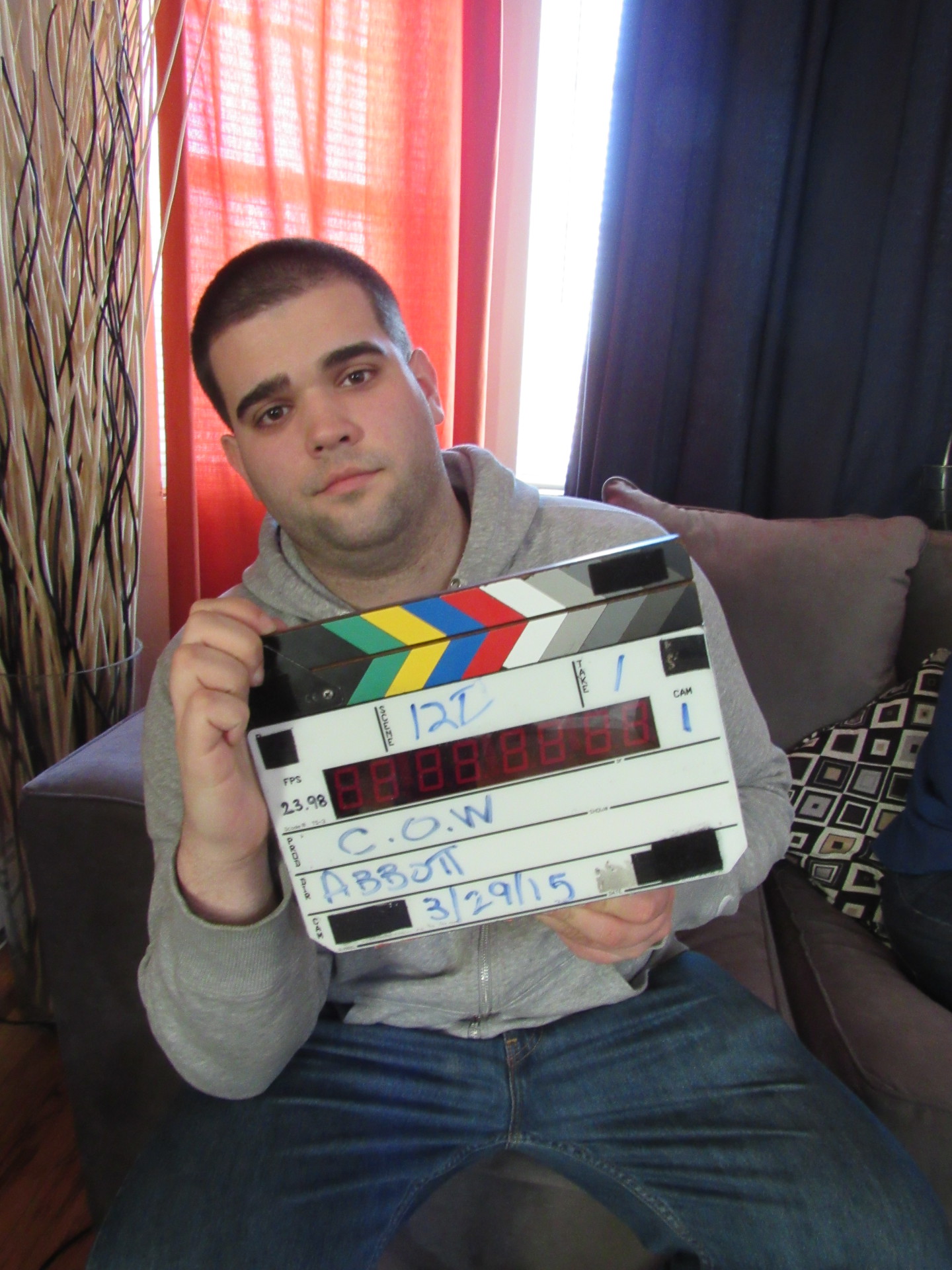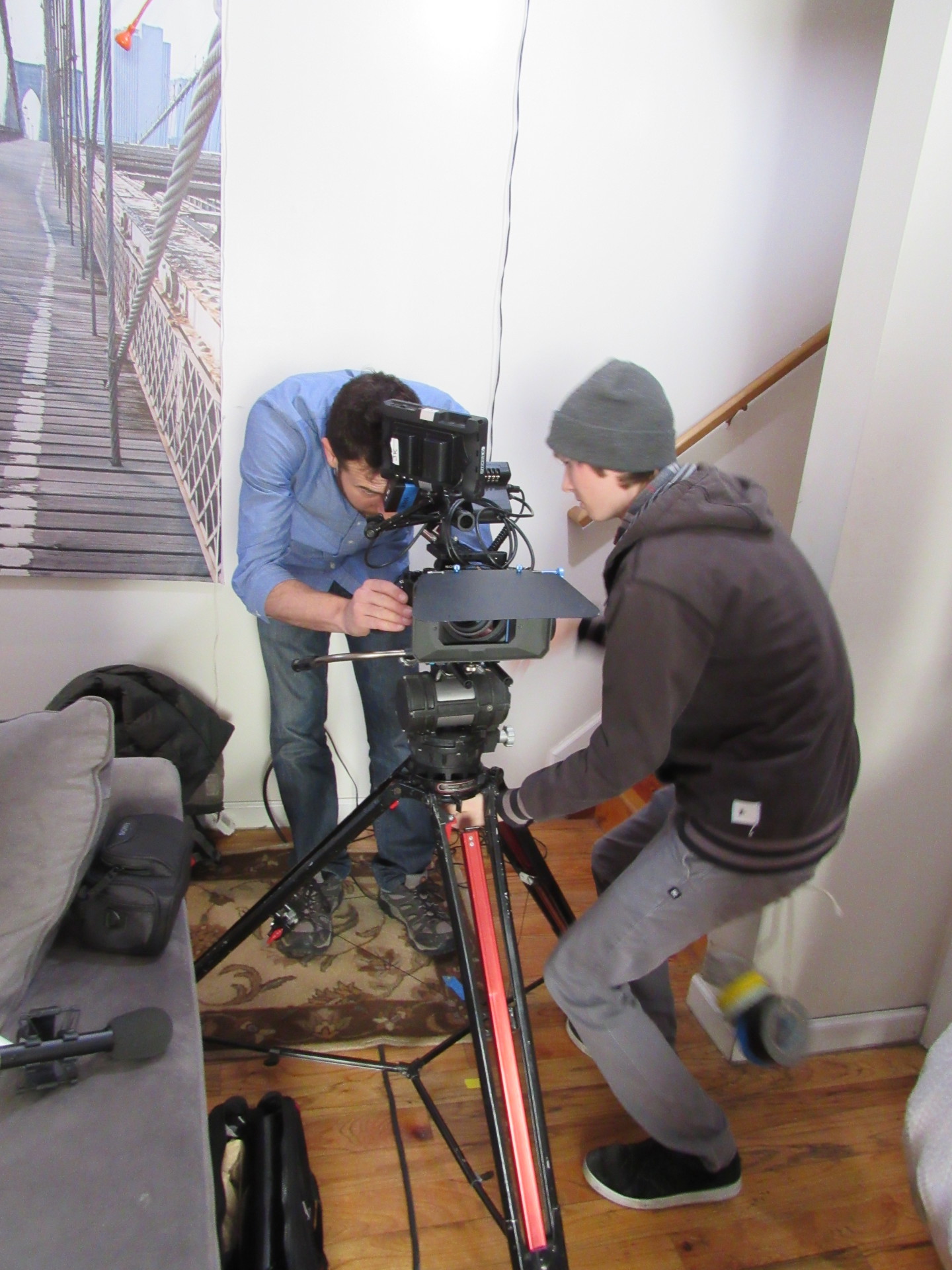 "Slate's coming in!" Our hard working PA & aspiring filmmaker Robert Berisha.
The DP Ari working hard assisted by George Cayea shooting on the Sony A7.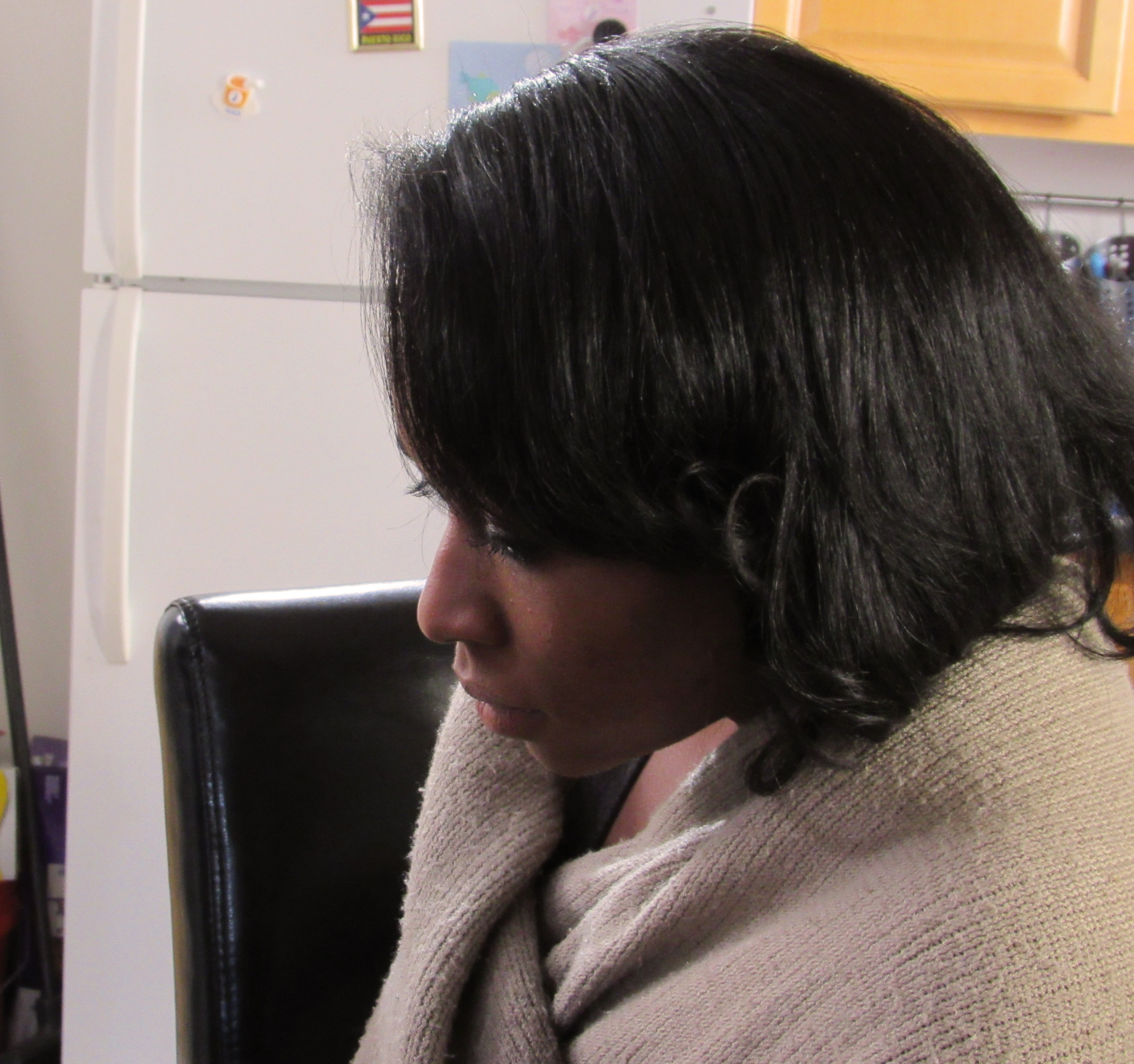 The beautiful and talented Famecia Ward gets into character as she prepares for the emotional scene.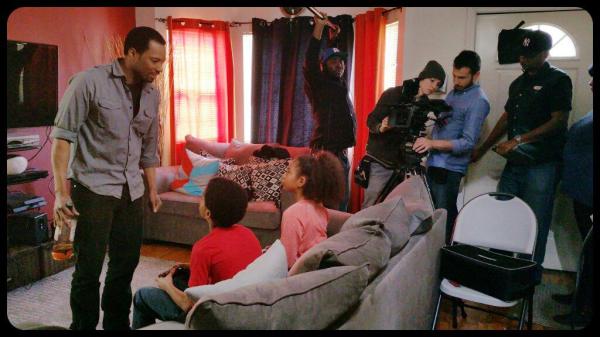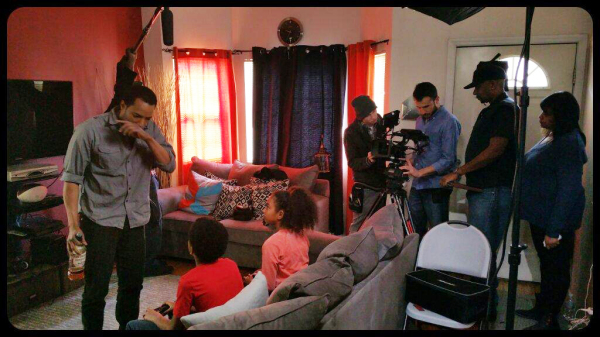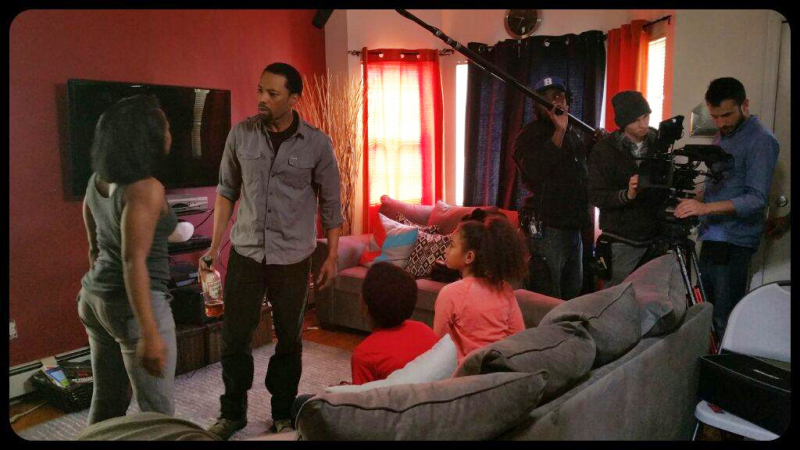 "When directing very emotion scenes, it's important to stay in the moment, but also important to keep things as light as possible, especially when working with young people. There was a good balance and no one had an emotional breakdown. Thank you Lord!" 
- Abdul Malik Abbott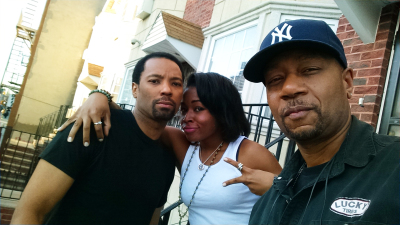 We keeps it Brooklyn yo!!
Taking a break from all the "drama" to take a photo with Omar reigning as the king of the "ice grill".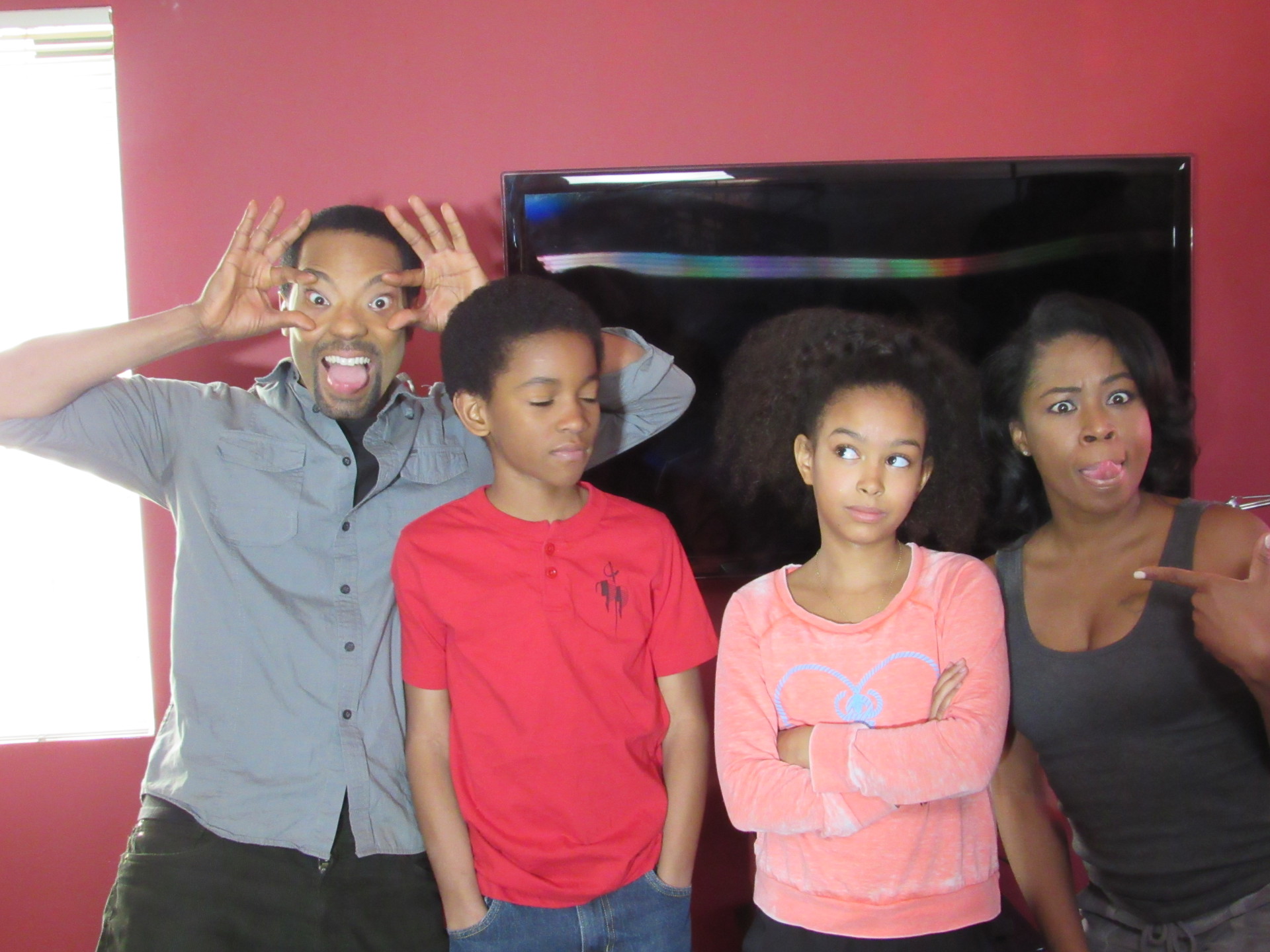 End of Day! aka It's a New York WRAP!!!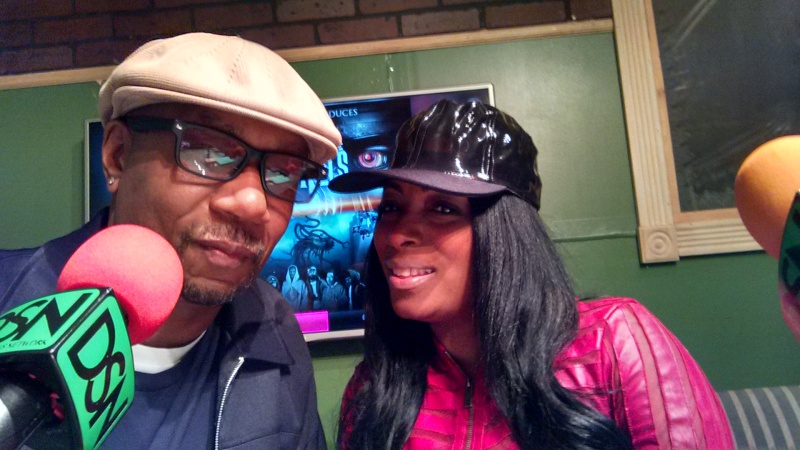 Abdul promoting the film "Curse of War" on the New York based DSN "Next Up" radio/internet show hosted by Ms Mocha Marie. 
Back on the west coast...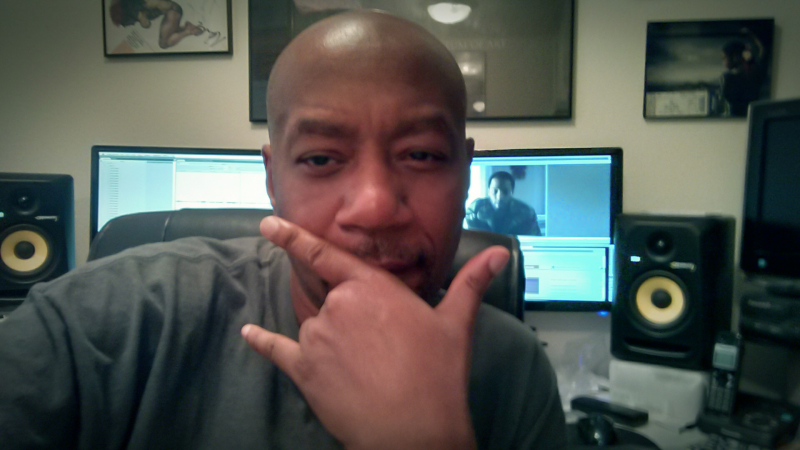 "As Phillipa wrapped out the New York portion of the shoot, I began my journey of syncing and logging the footage. It was a daunting task to say the least, but at least I got to see every frame of the footage. It took a few weeks to get everything in order, then I dived in head first. Being the director AND editor has its advantages, but also has its challenges because as director, you kinda wanna have it all layed out for you, then get into the details, but... I was the one who had to lay it out first THEN I had to get into the details and start to tell the story on screen." - Abdul Malik Abbott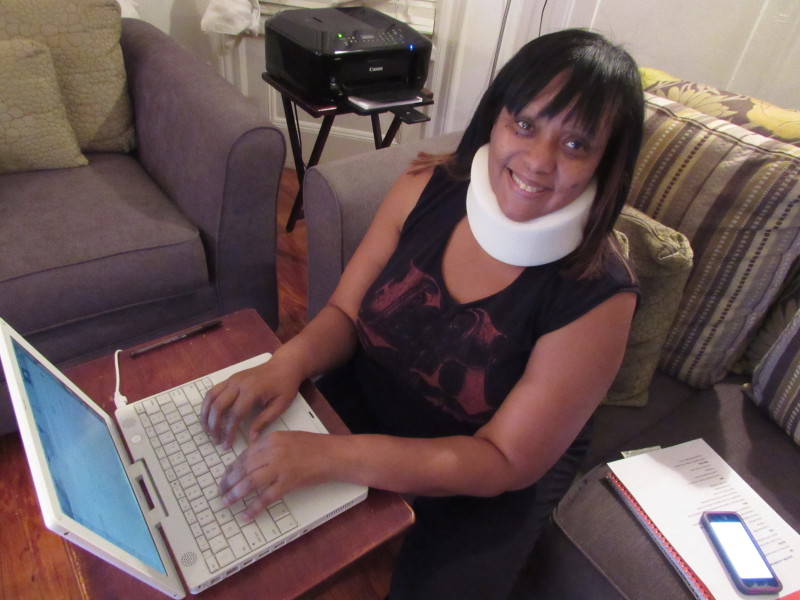 "Oh yeah, about that, doing you own short is a hell of a lot of work. I am such a diehard get it done no matter what, and I ended up injuring my neck.  I guess all the hours on the computer and not paying attention to posture.  Long story short, I ended up in the emergency room, pumped full of meds, and I still kept working, prepping for LA shoot. Five days later I was back to normal." - 
Phillipa Davis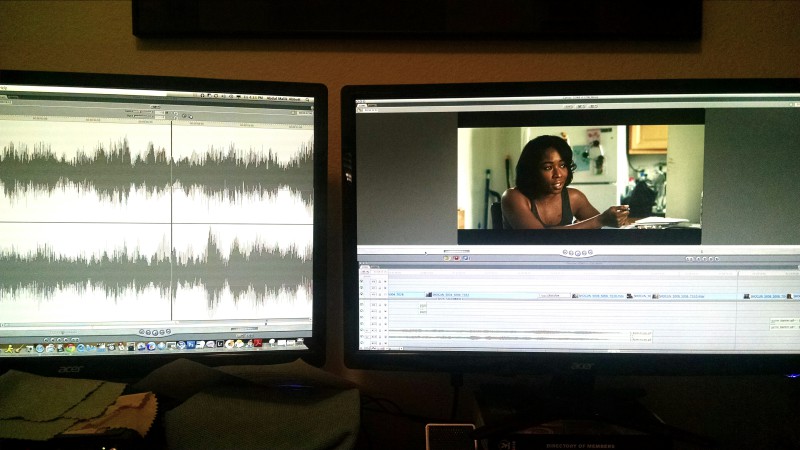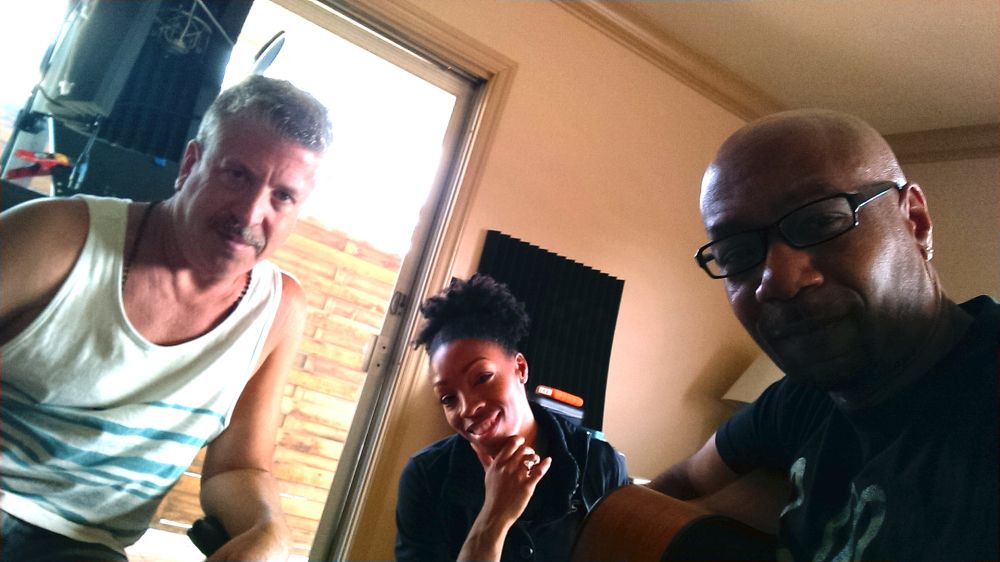 "I always knew I was going to have my band 
B.O.S.S
included in the short film soundtrack. As I was writing the script, I wrote the line, "let it all go..." for the charater James Powell knowing that line was key to the film's essence and would make a good theme/song for the movie. Before we were even finished editing and shooting, I teamed up with the Evan, the composer for the film and my B.O.S.S bandmate Natalieq (singer & lyricist) and we created 
"Let it all go"
, the closing song for the end title sequence. We wanted it to have a Gil Scott Heron meets Sade vibe to it" - Abdul Malik Abbott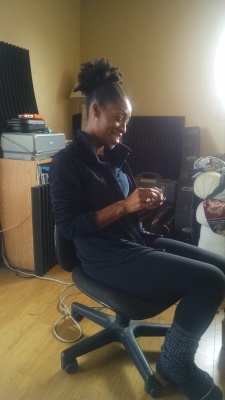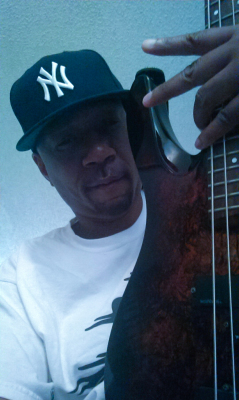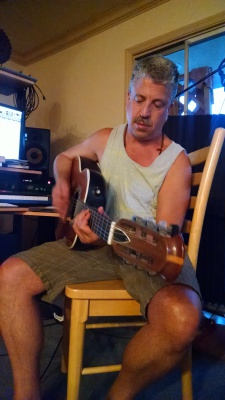 Natalieq working on the "Let it all go" tune.
Abdul aka DJ ABBY AB recording bass.
Evan working out the guitar licks for "Let it all go".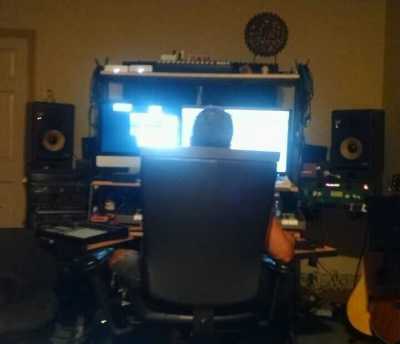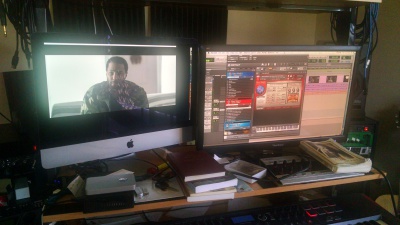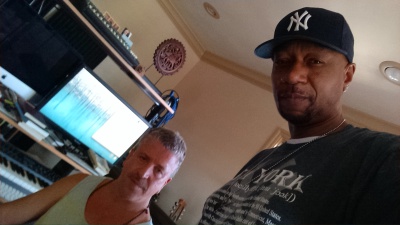 "I spent several weeks over the long hot summer working side by side with Evan in his west side studio on the music composition for the movie. His attention to detail was impeccable as we went through scene by scene coming up with a score that fits the mood and the vibe of the movie without becoming overwhelming or distracting. We went for a "minimal" score that had a Hans Zimmer vibe to it." - Abdul Malik Abbott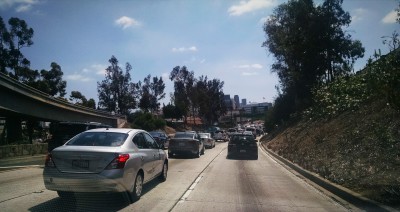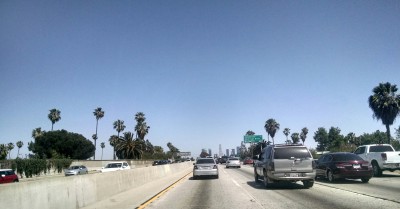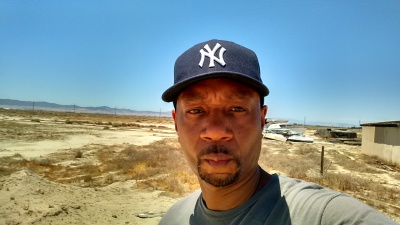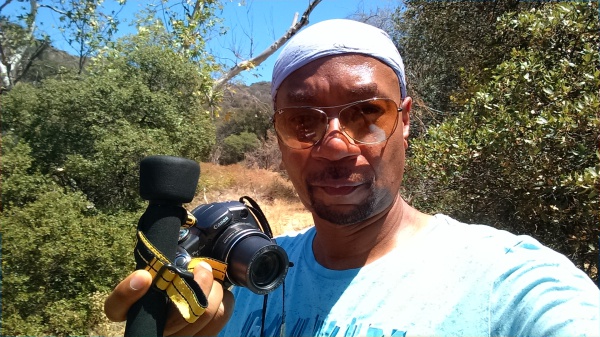 "We Ain't Done! While working on the musical soundtrack as well as collecting "foley" elements, I was location scouting for a location that had the "look" and vibe for the fictional war conflict in the mountains of Yasuj, Iran. I scouted from Los Angeles to Lancaster to Ojai, all during record summer heat in Cali, all for the love of the art... and yeah, availibility, convenience and budget too! And while we're at it, spiders and snakes all up in the place! No joke!" - Abdul Malik Abbott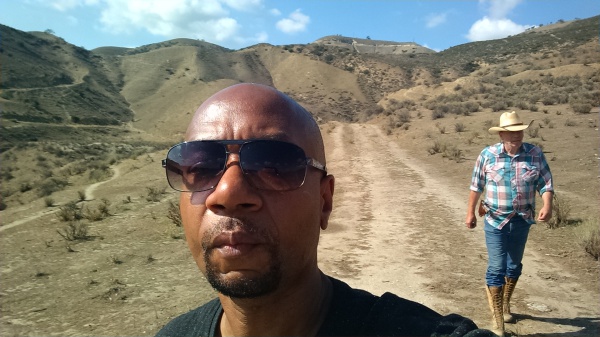 "I don't know about you, but meeting up with a man carrying a loaded side arm makes a New Yorker nervous! On my scout I had to deal with it. He turned out to be a nice man and off of a recommendation, we ended up choosing his property located in Simi Valley called "Boyle Ranch." - Abdul Malik Abbott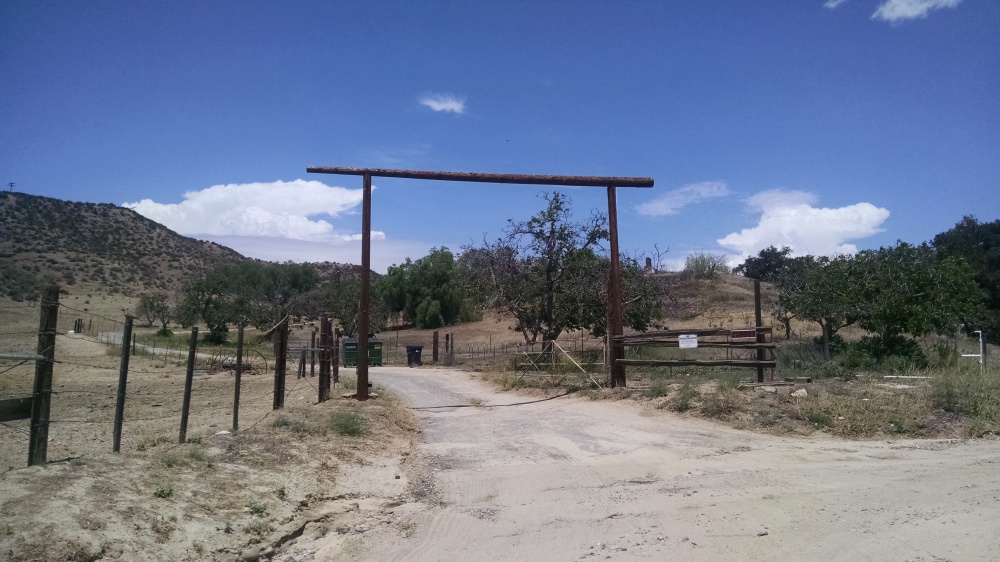 Boyle Ranch entrance in Simi Valley, CA.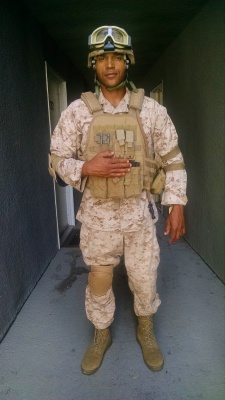 "I was happy to cast the talented Jaimes Timas as the Marine "Troy Drayton". Jaimes was cast as the male lead in the 1st music video I directed for my band B.O.S.S called 
"Come Again"
.
He is an easy-going fellow and his military background helped me feel confident that he was the right guy for the role that was offered to him with no audition." 
- Abdul Malik Abbott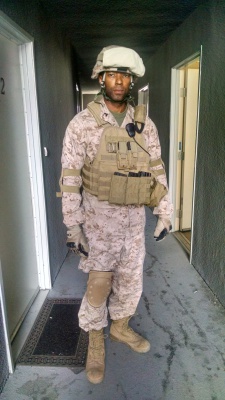 Wardrobe fitting session with Jaimes Timas as "Troy Drayton". 
Wardrobe fitting session with Ronnie Graham as "James Powell".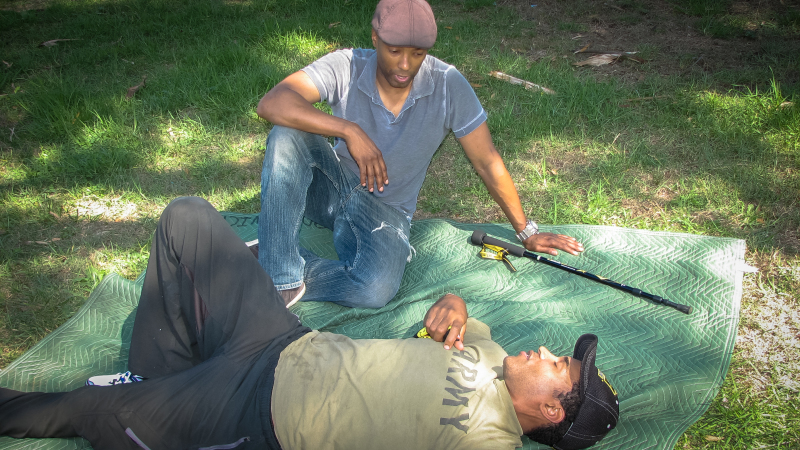 "Being that the upcoming scene was very physical, at a somewhat dangerous location and required working with firearms, we rehearsed the war scene with the two actors so that we knew exactly what we were doing before hand." - 
Abdul Malik Abbott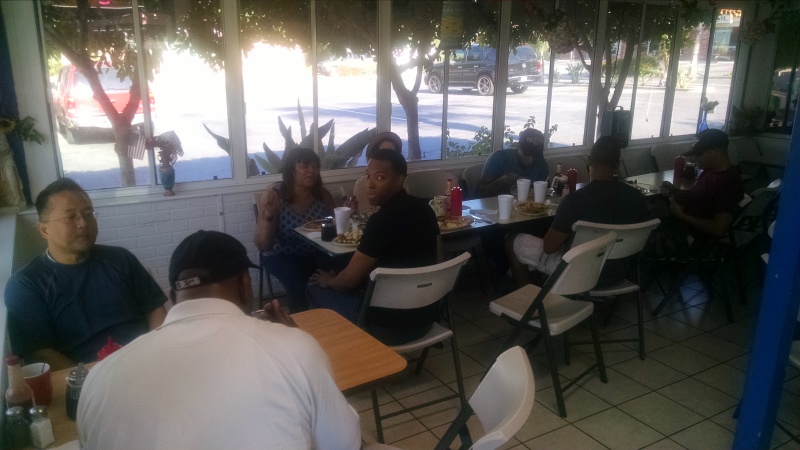 Being that the location was definetly no picnic in the park, we all met up at a nearby restaurant for breakfast before heading off to the mountains to film.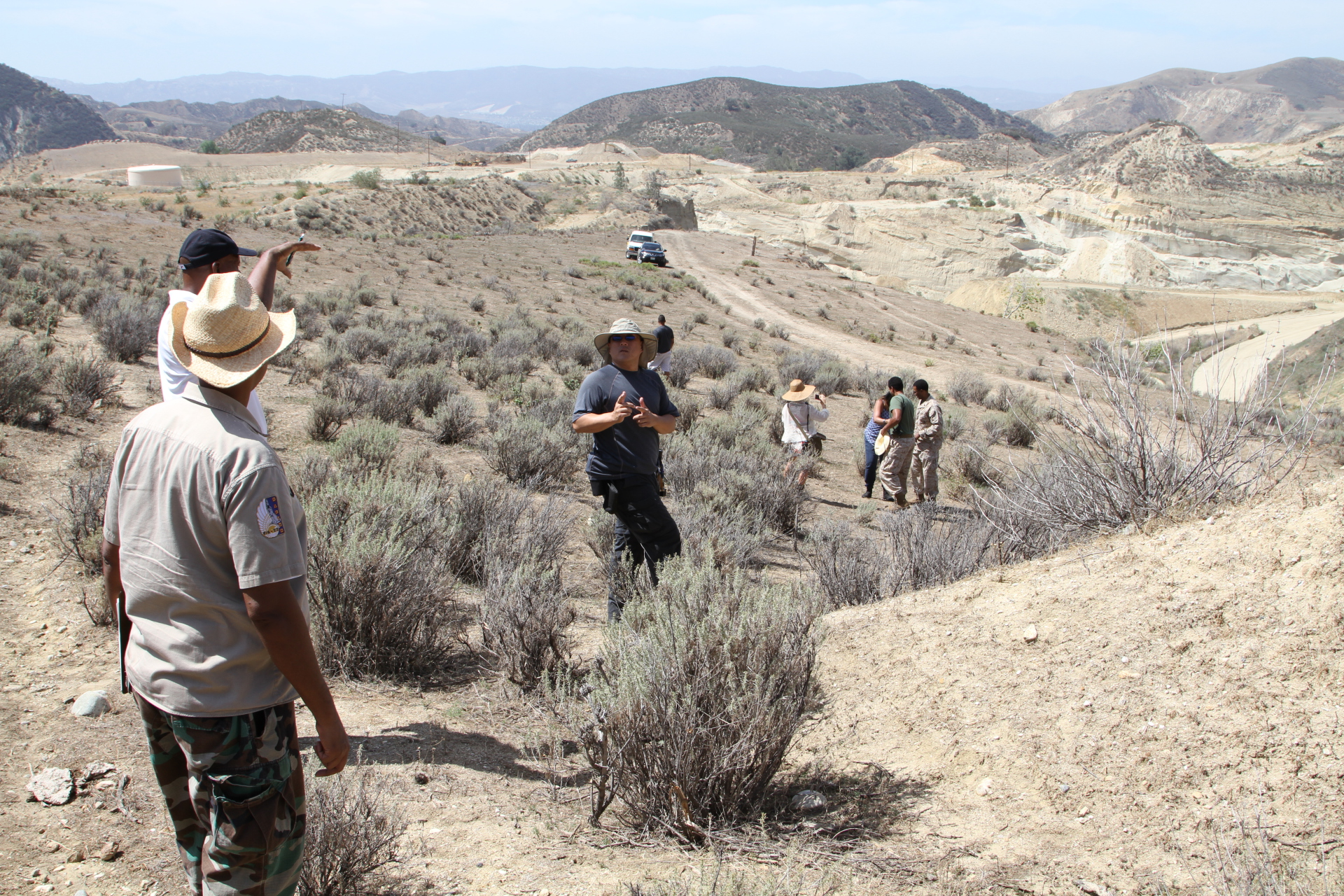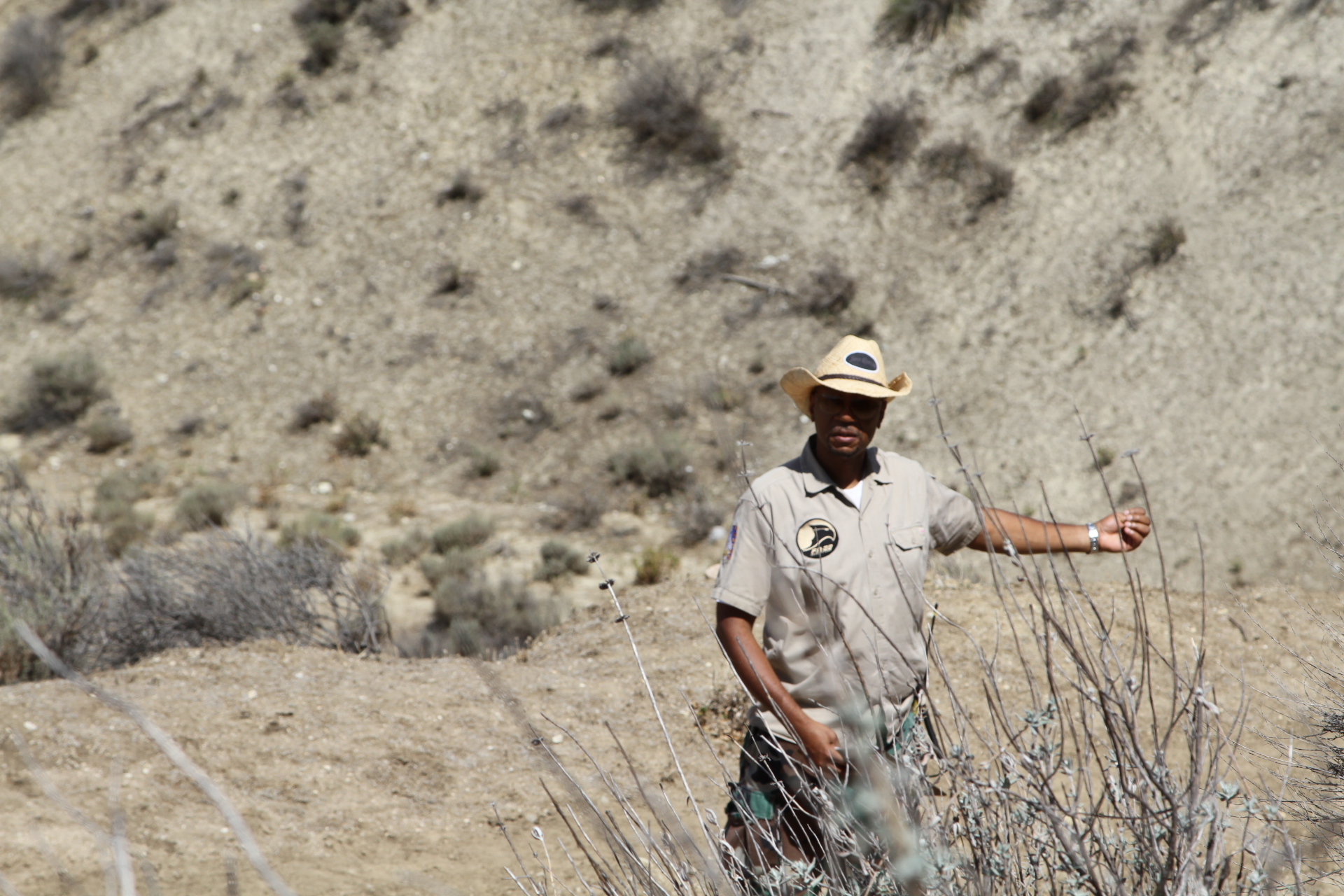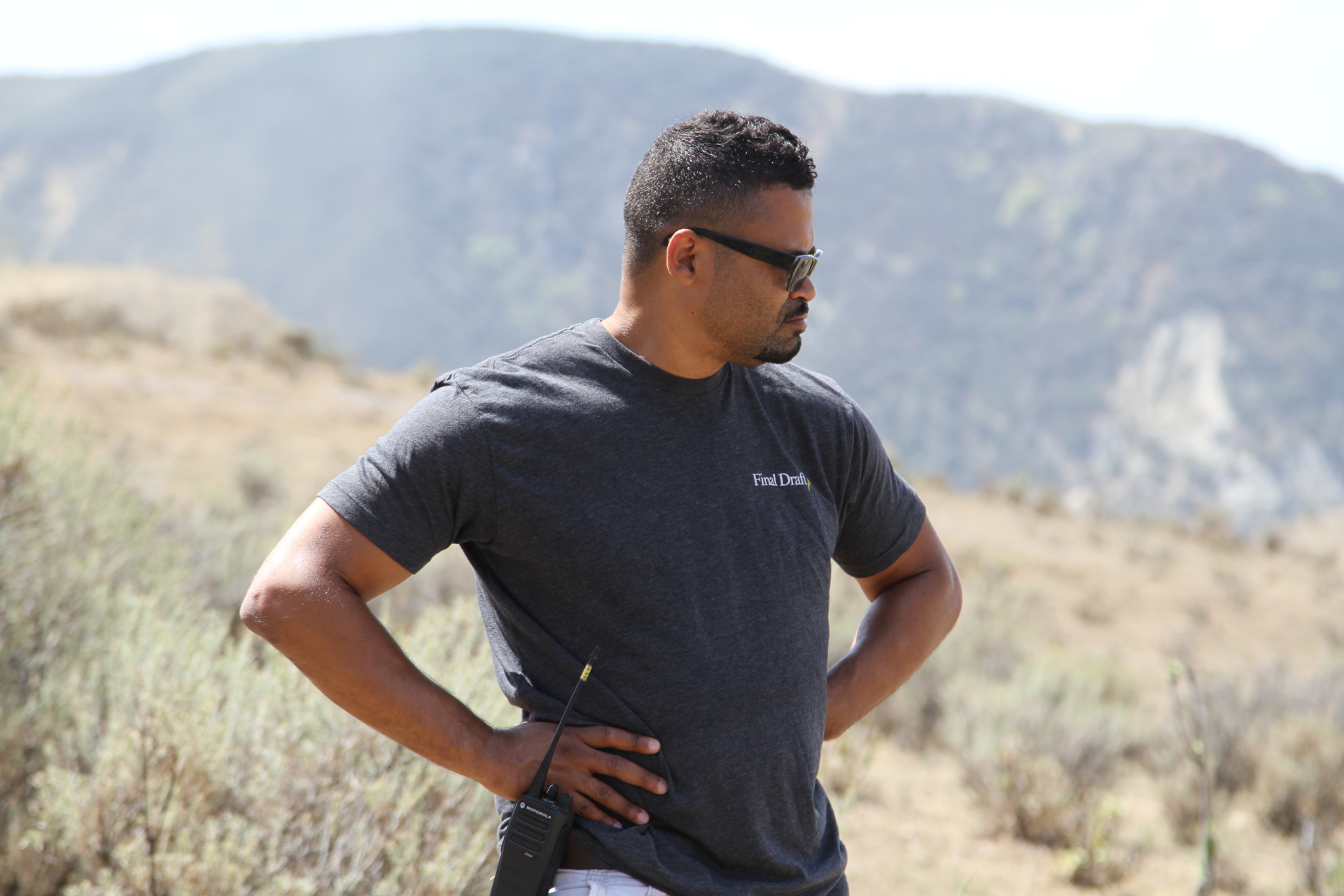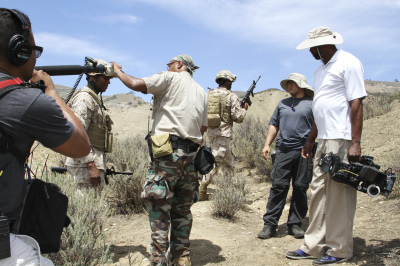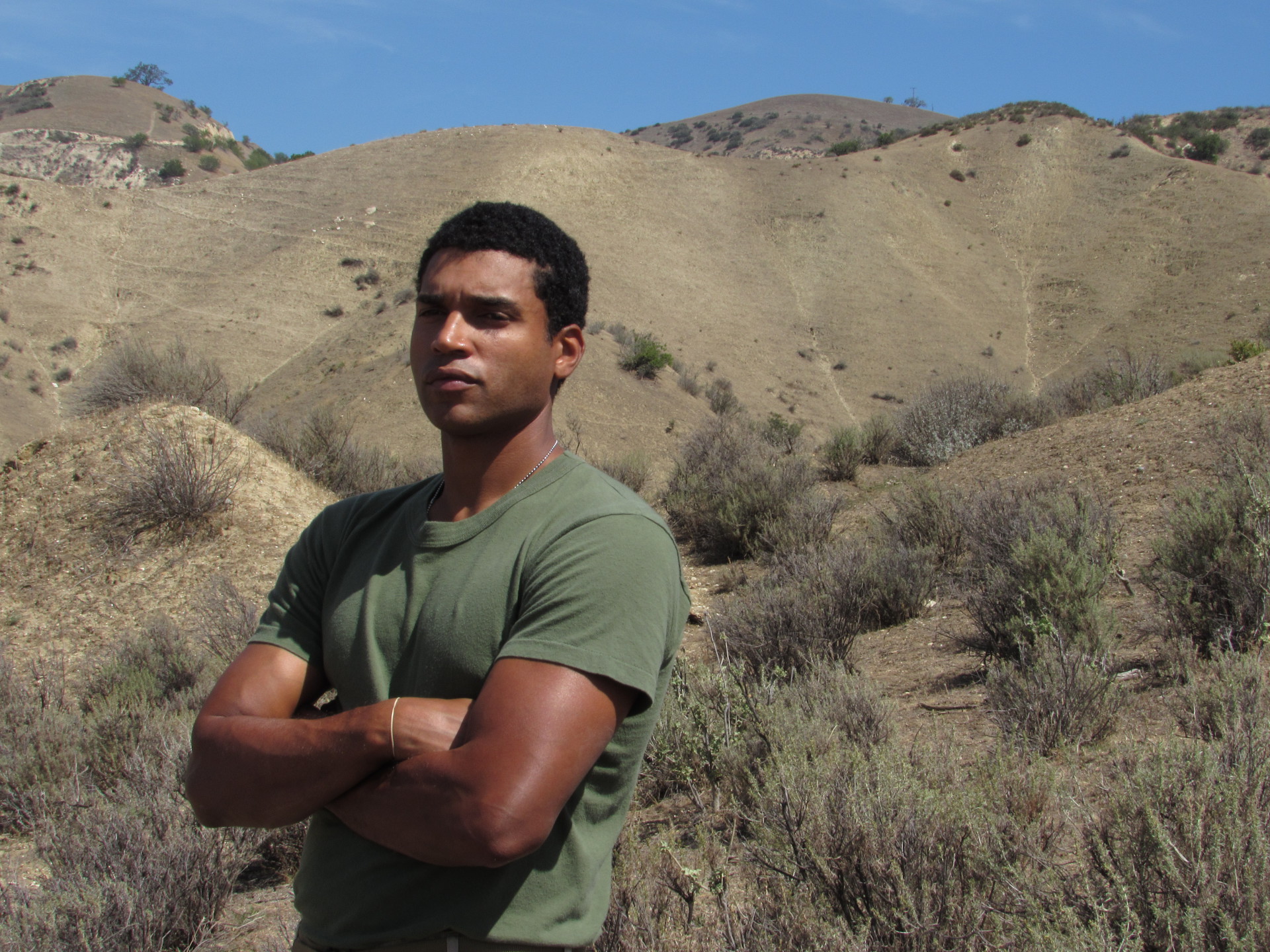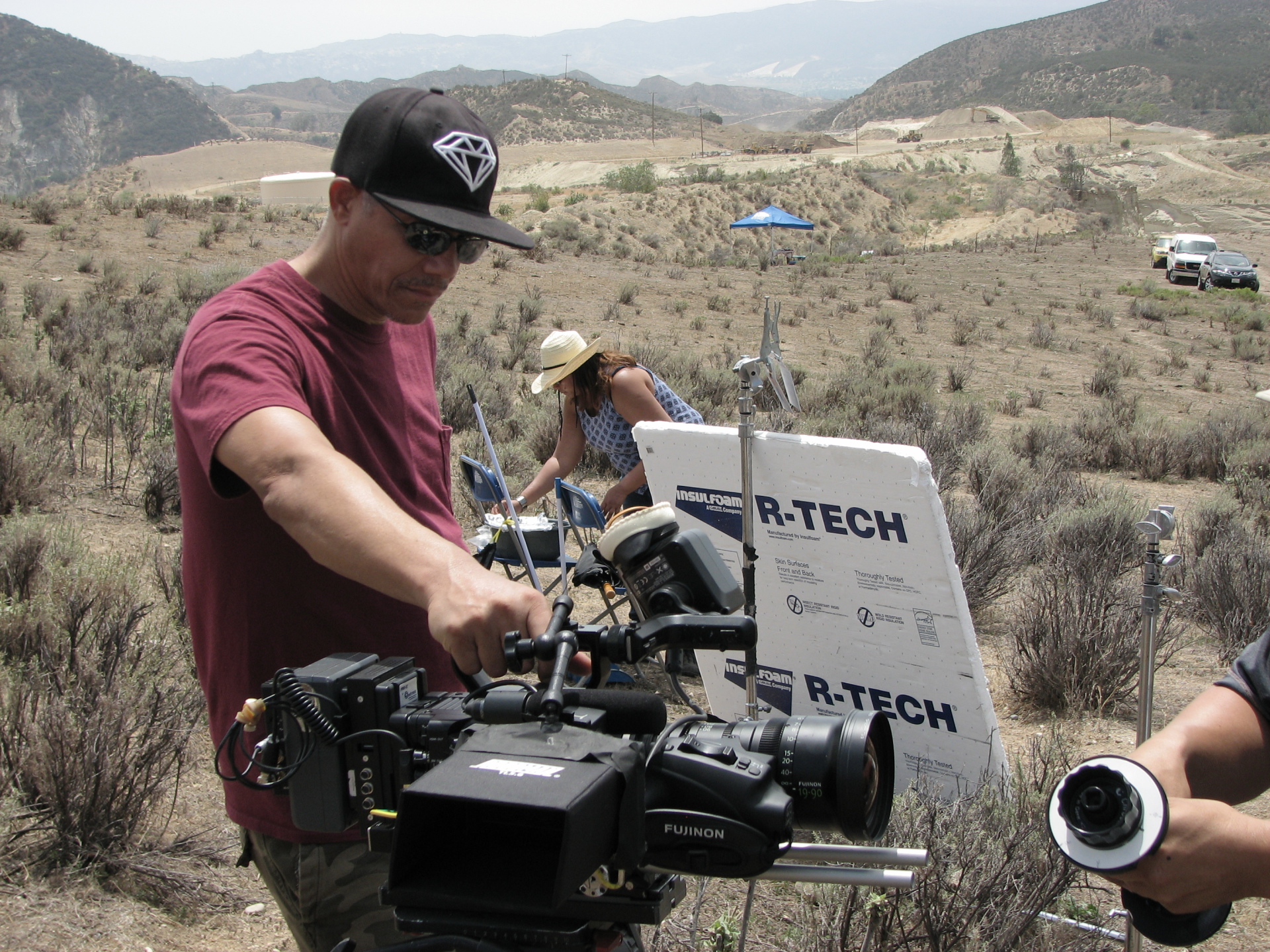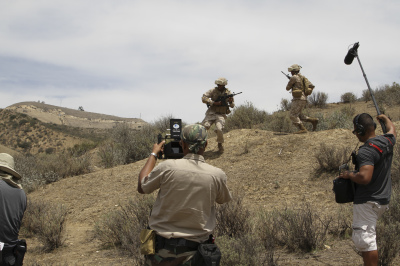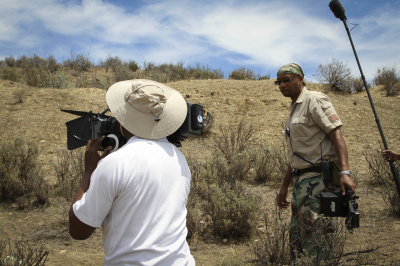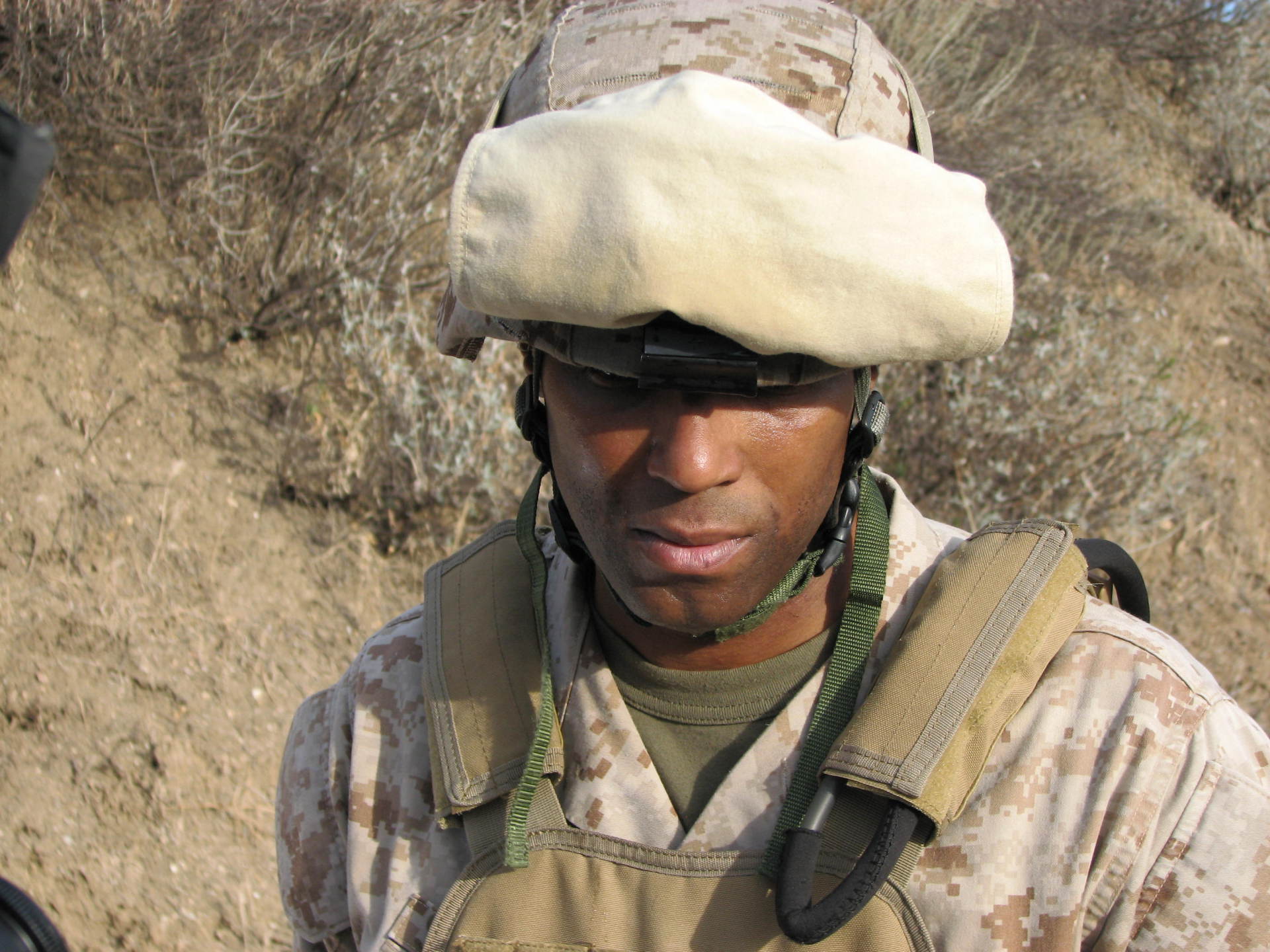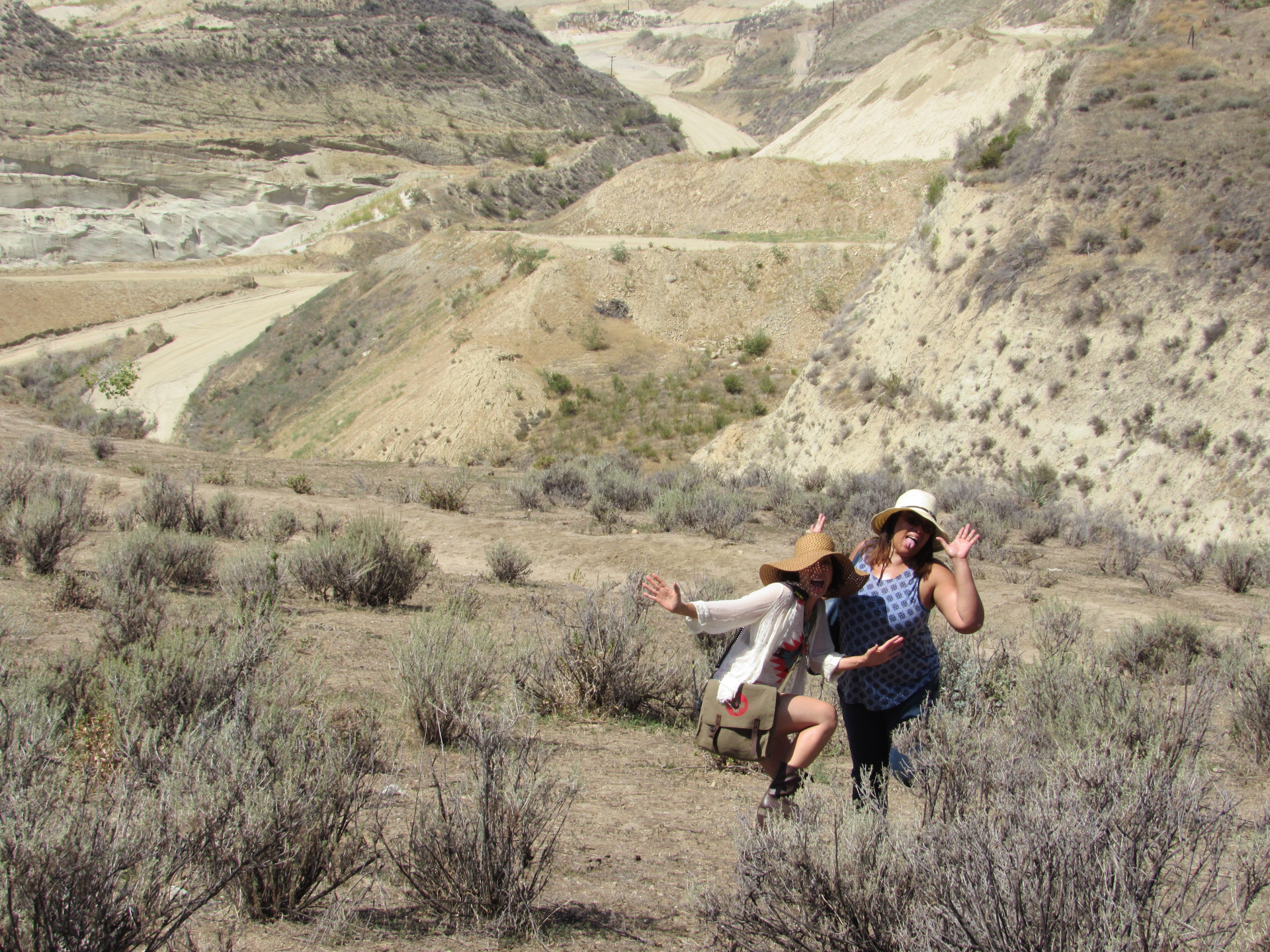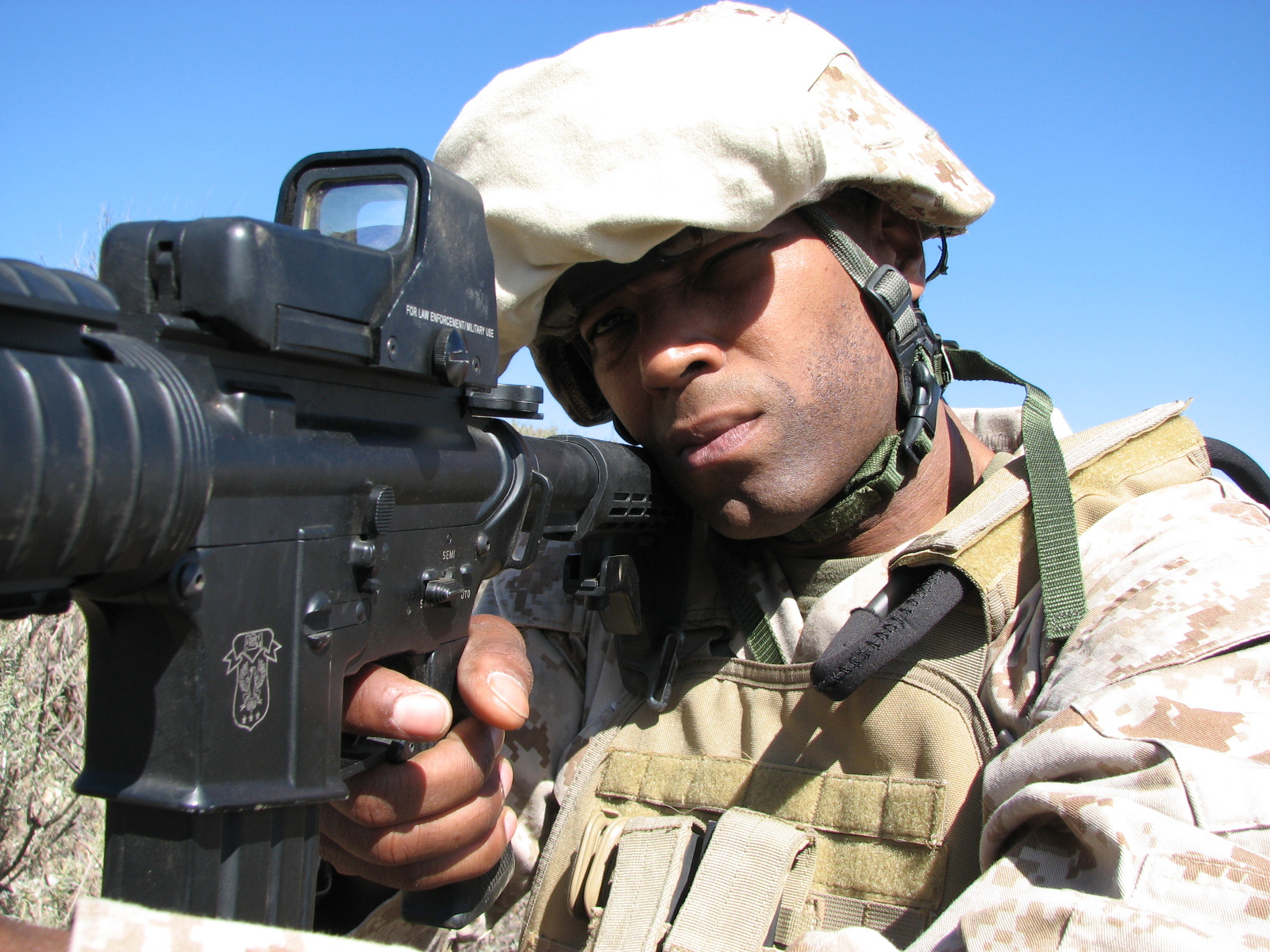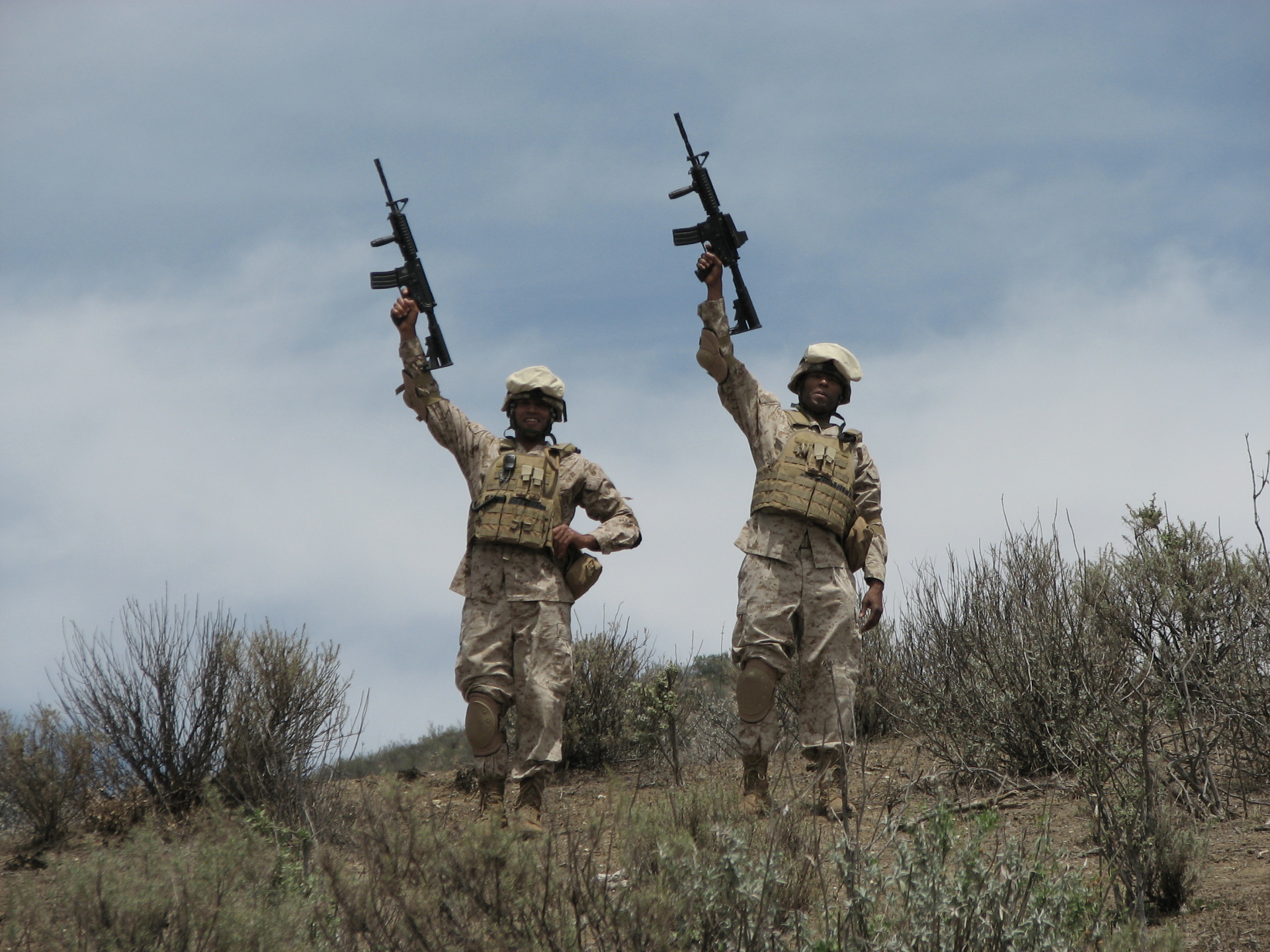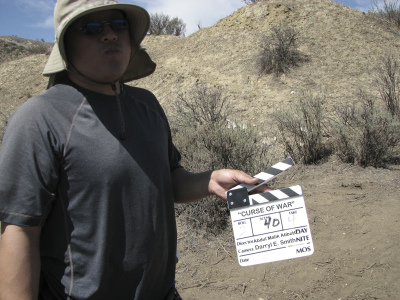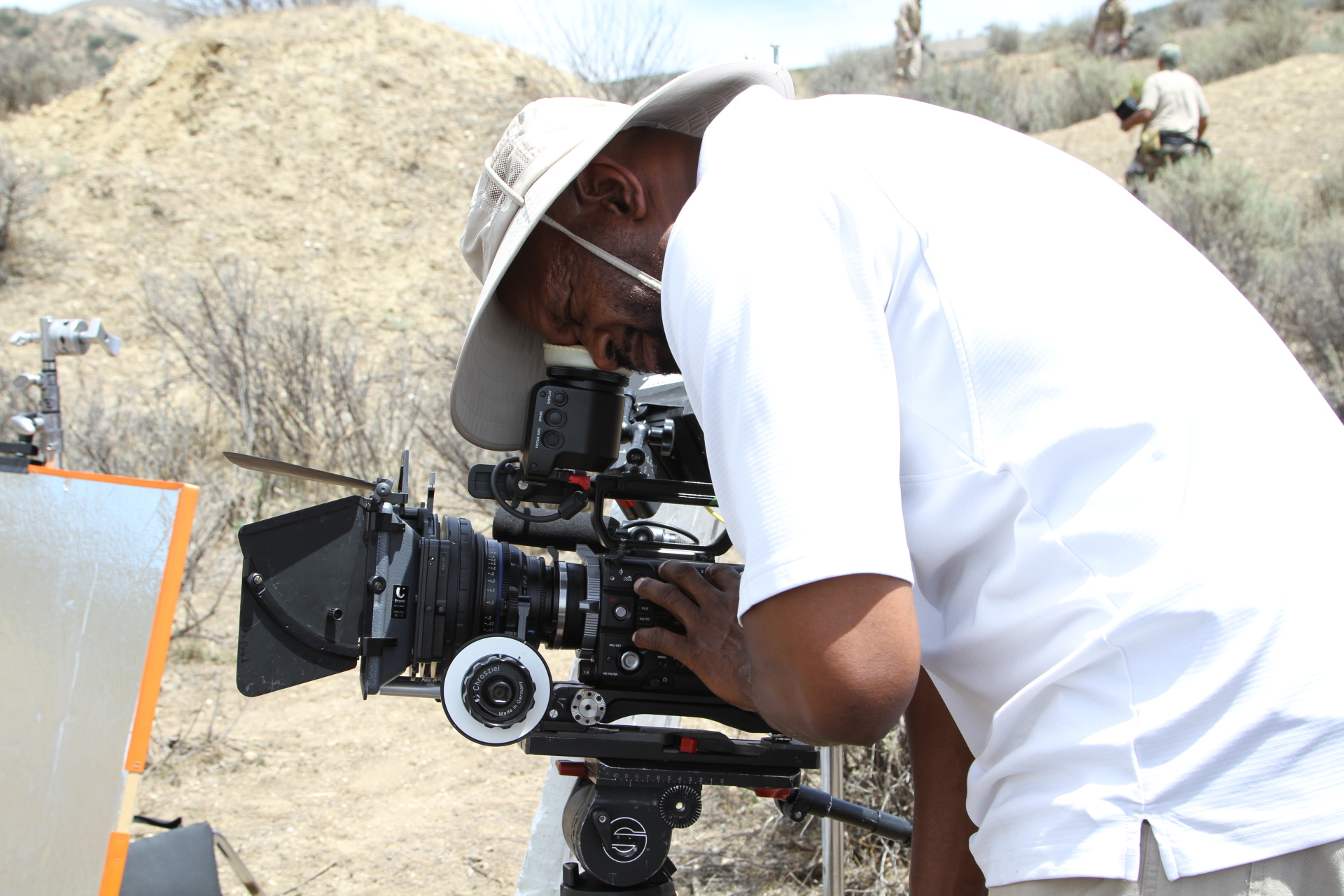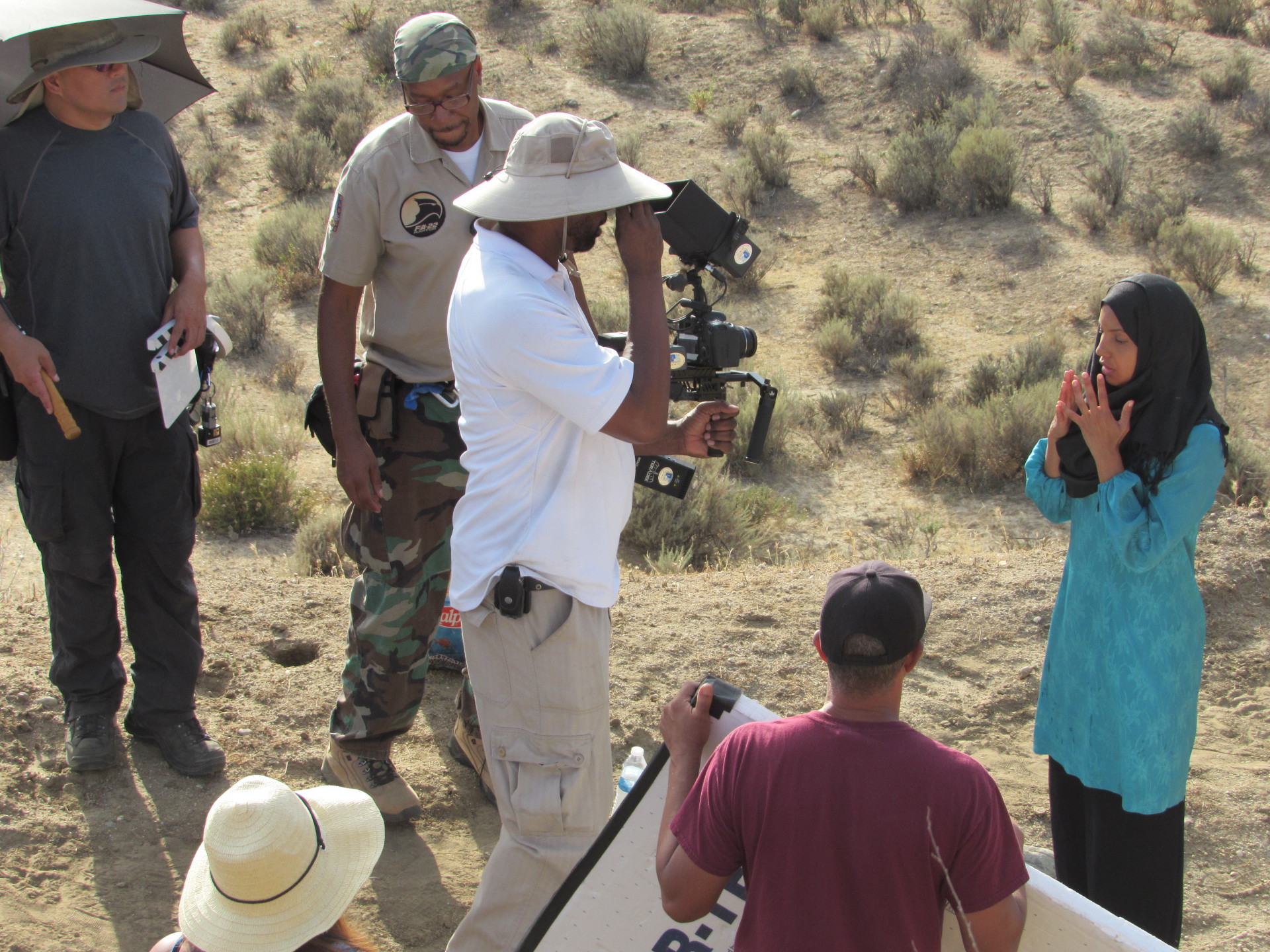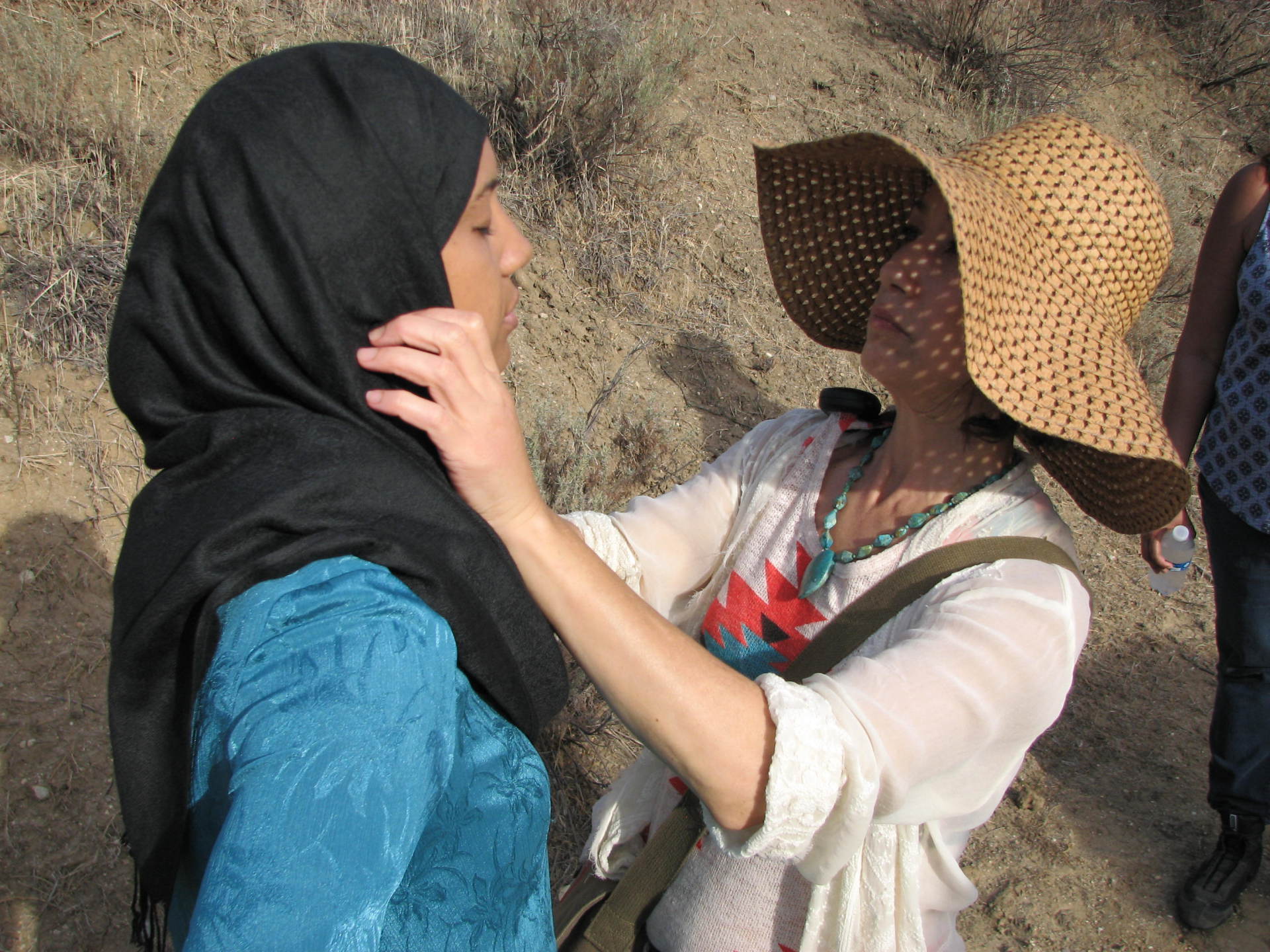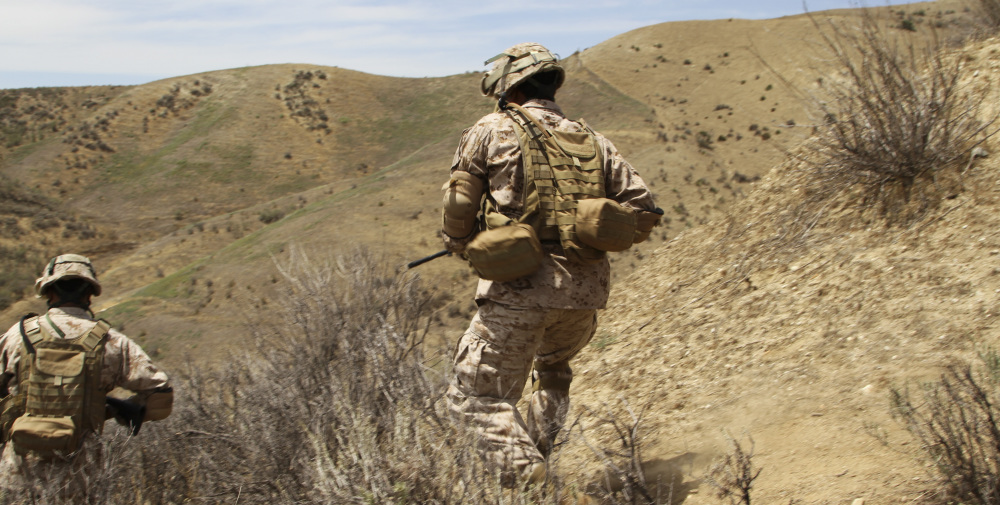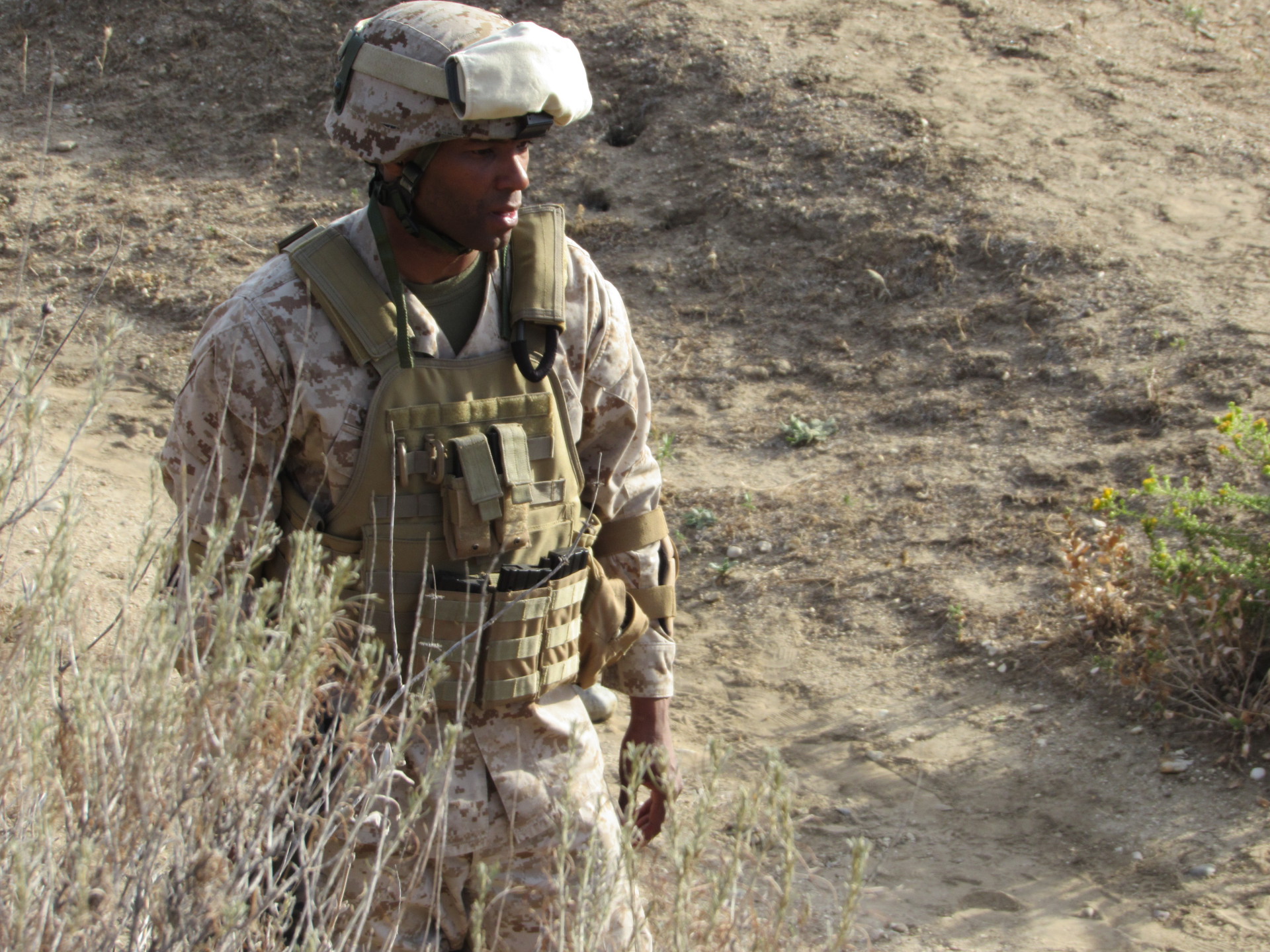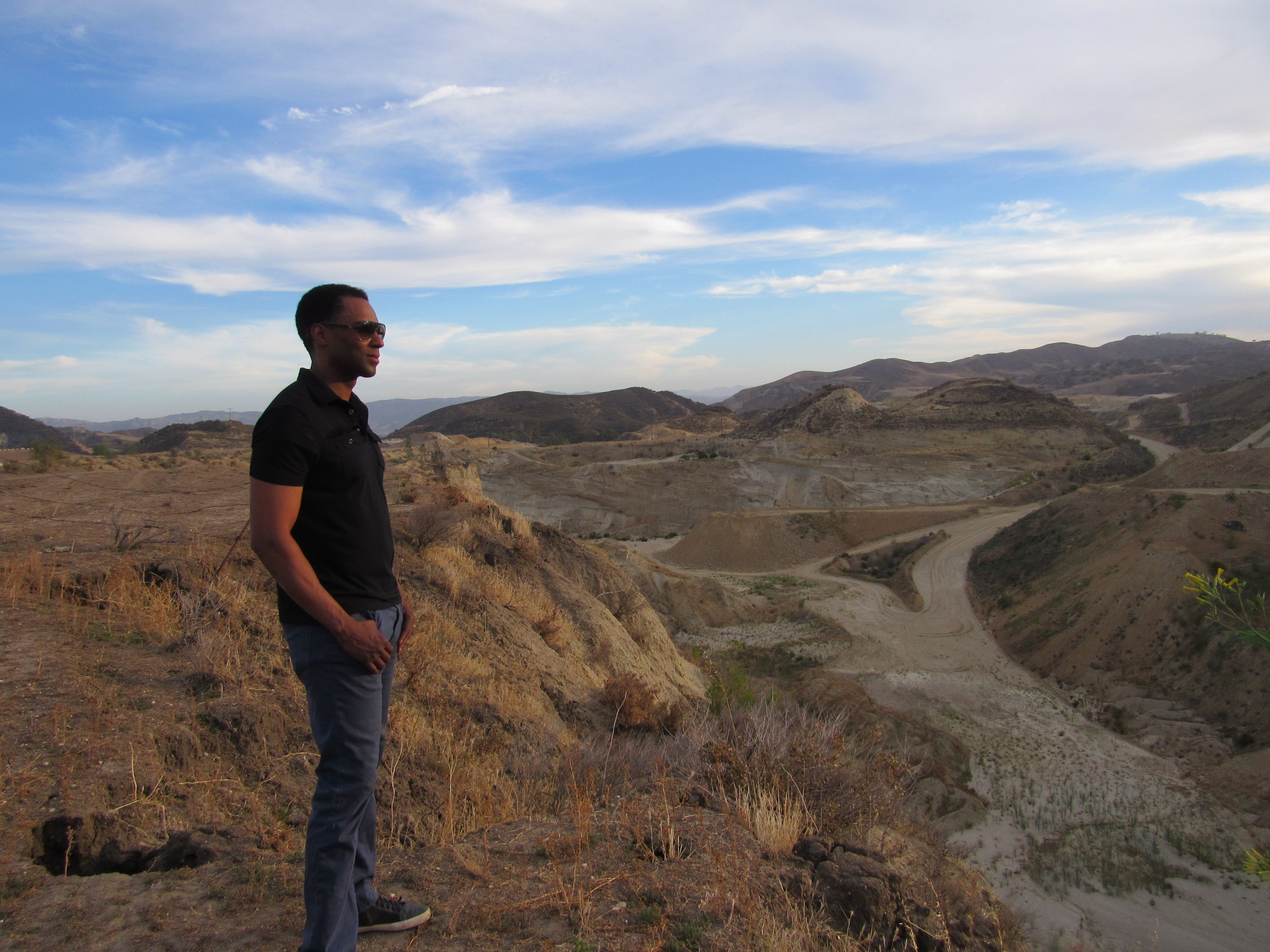 "I can't take full credit for the creation of this story and character.  I believe I was just a conduit of expression for what already existed.  All the components of this story are facets of my life experiences and circumstances of many others. Due to some of the traumatic parallels of my life and this story, I was able to channel an emotional life for James with a high level of sincerity. Our world community share important issues and searches for agents that are ready and willing to effectively engage and inform society until positive change comes about.  I am honored to be an agent of this change while raising awareness for PTSD through my artistic endeavors." -
Ronnie Graham
It's a Production WRAP!!!!

​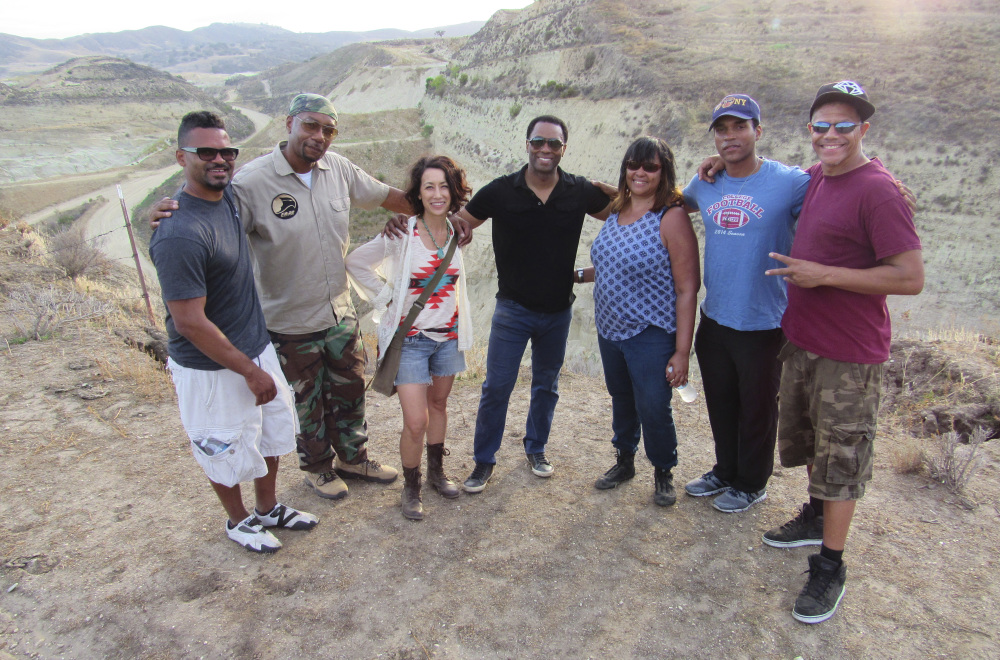 ​

Adisa Septuri, Abdul Malik Abbott, Pamm Riddle, Ronnie Graham, Phillipa Davis, Jaimes Timas, James Rich
"Our last day of shooting principal photography in the Los Angeles desert.   It's was about 100 degrees or more, and I recall trying my best to keep the cast and crew hydrated. In the meantime I was getting sun burned.   What a fantastic day shooting on a vast, gorgeous location, capturing some pivotal scenes  which included our protagonist time in the war.  A bit of a challenge, but we accomplished all we set out to do.  Our cast and crew kicked ass! This pic says it all, collaboration and team work". -  
Phillipa Davis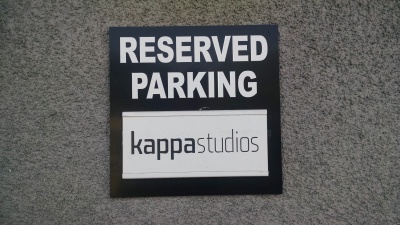 "After editing in the new scenes, recording the foley, adding the FX in and scoring the rest of the picture, I after a strong recommendation from fellow filmmaker Gingi Rochelle, I started working with the Post Production guru, Greg "Grits" Carter at Kappa Studios in Burbank.  It was a long journey for me and finally I had to let the baby go to graduation and finalize the post". - 
​Abdul Malik Abbott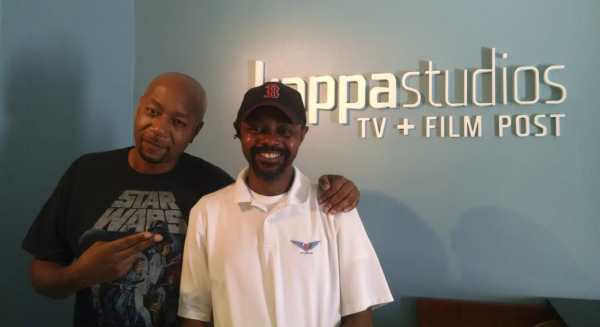 Abdul with the Post Production Supervisor Grits Carter.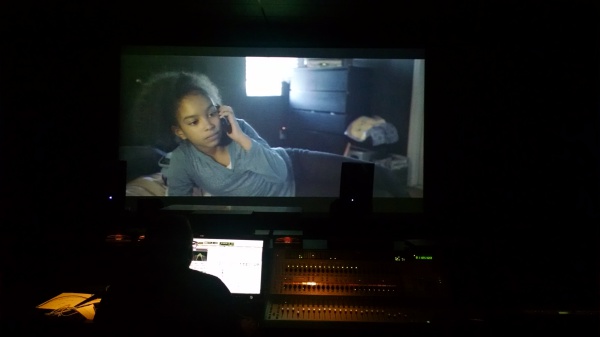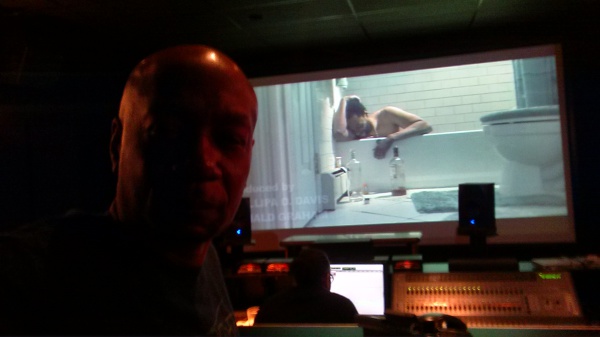 Sound Mix session at Kappa Studios, Inc.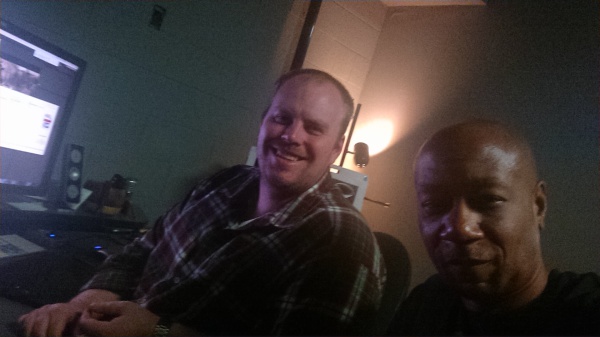 Online Editor Vaugn Bien and Abdul at Kappa Studios.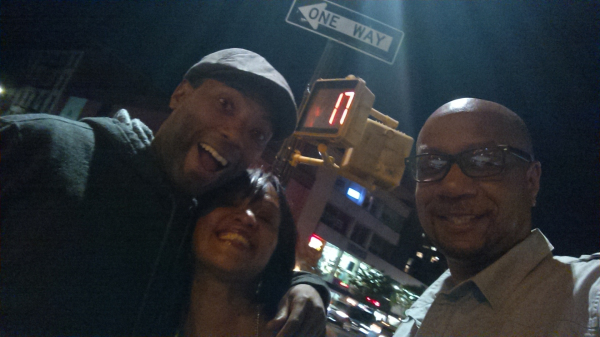 We did it!!! Thank you to everyone who helped us along this journey. The Circle is now complete!